BY TTT NEWS NETWORK
KOLKATA, 21 MARCH 2023:
Several thousands of visitors enjoyed the Badamwari Festival 2023 as Kashmir's almond orchard,  the mesmerising Badamwari turns into a virtual paradise on earth.
"Badamwari Spring Festival drew a huge crowd of tourists and locals alike for a day filled with folk music,street food, entertainment and fun. The perfect day out!," tweets J&K Tourism.
"Join us in celebrating the splendour of spring at Badamwari,Srinagar and Nagam Karewa(Yousmarg Road) on the 20th of March 2023 with folk music, kehwa,nun chai and local breads,all in the midst of beautiful almond orchards," tweeted J&K Tourism earlier.
Secretary,tourism and culture, Dr. Syed Abid Rasheed Shah has  inaugurated the Spring festival, 'marking onset of Spring season ' at the  iconic Badamwari Park on Monday.
He has focused on promotoing sustaiable tourism practicies and highlighted the  governments  effort for developmeng infrastructure to further boost the tourism.
"The tourism and culture department will organise such kind of events across the length and breadth of the union territory to tap the true potential of the virgin tourist destinations in Kashmir," said Dr. Syed Abid Rasheed Shah.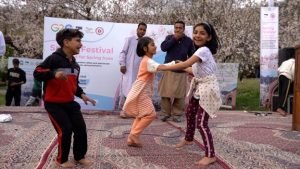 In his speech , Director (Tourism)  of  Kashmir, Faz Lul Haseeb said that the department has lined up series of activities at different tourist destinations across Kashmir division to provide tourists and  visitors maximum avenues for recreation.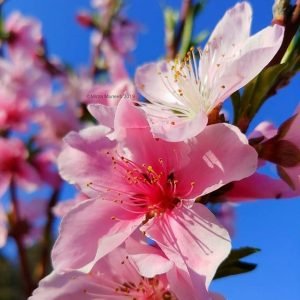 Cultural events and performances by renowned  local artists from Kashmir also enthralled the audiences during the festival and has been an added attraction.
Unique local cusines at the food fair stalls, exibitions of art and crafts have drawn huge enthusiasm amongst the visitors.
About Badamwari –
The early bloom of flowers on Almond trees in the sprawling historic Badamwari garden in Shahr-e-Khaas has become a source of attraction for nature lovers and tourists, alike. Situated on foothills of Koh-e-Maran, the 300 kanals garden was dotted with trees, flowers and cascades providing a soothing experience to the visitors. Historians maintain there was no record to suggest who laid the garden but they say it existed even before the rule of Sultan Zain-ul-Abidin in the 14th century. A well covered dome in the garden is named after an Afghan ruler, Warris Shah. The bloom on the Almond trees heralded the spring. the garden was revived and formally thrown open for public in 2008.
Badamwari Garden is a piece of heaven tucked away in Srinagar. Sprawling over the hills of Koh-e-Maran, the enchanting garden is replete with vibrantly blooming bushes and shrubbery. It houses a magnificent dome at the centre and has trails carved for tourists to walk on.
The best time to visit :
During March/April when the almond trees are in full bloom.
How to Reach :
By AIR : 16.8 kilometres from Sheikh ul Alam International Airport, Srinagar
By Train : 15 kilometres from Srinagar railway Station
By Road : 6.5 kilometres from Lalchowk, Srinagar.
https://fb.watch/jo_ThX_d4T/