BY TTT NEWS SERVICE
KOLKATA, 28 JULY 2022
The God's Own Country  becomes the first state in India to launch an online cab service, 'Kerala Savari', which will be operated by the state government.
Kerala Savari will be the Indian version of Ola, Uber etc.
Minister for education, labour and skill development of Kerala, V.Sivankutty said that , "this is for the first time that a state government is launching an online taxi service in the country. It is perhaps the first such system in the government sector in the world itself… A complete safe and dispute-free travel is the promise given by the Kerala Savari."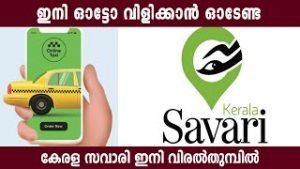 The online cab service will not be hassle free for the commuters but will also be cheaper than the existing private sector online cab services in the state and will also provide a lot of job opportunities to the youth of Kerala, the minister added.
"The new  e – taxi service would be launched in a function to be held at Kanakakunnu Palace in Thiruvananthapuram on the beginning day of the auspicious Malayalam month of Chingam, which falls on August 17  this year," said V.Sivankutty.
V.Sivankutty further added that the amount, collected as service charge, would be utilised for the project implementation and promotional incentives for  both the passengers and drivers.
"The Kerala Savari app would be safe for women and children, he said it was designed with utmost care in security standards. A police clearance certificate has been made mandatory for drivers joining the scheme,"  claimed Sivankutty.
The app also has the feature of a 'panic button' which can be used in case  of an extreme emergency situation like an accident or another similar danger.
"It has been decided to implement the scheme across the state. At present as many as 500 auto-taxi drivers in the Thiruvananthapuram Corporation limit are the members of the scheme. Officials of various departments have imparted training to them in various subjects of online cab driving and tourist support ," the Kerala minister added.
Recently, the prestigious  TIME Magazine has listed Kerala of India in the list of   World's 50 Greatest Places -2022. Mainly because of the host of initiatives undertaken by the state government to boost tourism in the Gods Own Country.
The only other Indian city to get a place in that elusive list is Ahmedabad.
Last year during the time of covid -19 pandemic outbreak, Kerala Tourism has launched  meals services  for in-car dining for the benefit of the passengers  strictly maintaining all safety protocols.