BY TTT  NEWS SERVICE
KOLKATA, 28 JULY 2022
The Central government  has approved two new tourist circuits for Arunachal Pradesh which will further boost the tourism prospects in the north eastern state of India , according to the state government of  Arunachal Pradesh in Itanagar.
The new tourist circuits  which have been just approved are :
Dibrugarh – Deomali – Hukanjuri – Khonsa in Tirap district and Dibrugarh – Kanubari – Longding in Longding district of the state, the state government has informed.
A circular from the union home ministry states that the proposal of Arunachal Pradesh government relating to opening of new tourist routes has been examined by the central government. It has, accordingly, been decided with the approval of the competent authority in the Ministry of Home Affairs to open the two new tourist routes in Arunachal Pradesh for tourism purposes.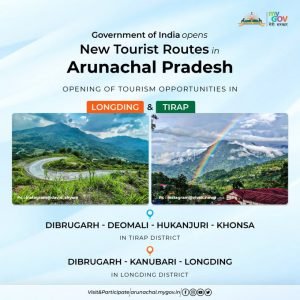 The union Ministry of Home Affairs  also directed  the Arunachal Pradesh government to augment the capacity of district administration including police force and infrastructure  of Tirap and Longding districts to cater to the security of the area for creating an environment conducive to promoting tourism.
" All the activities of tourists to be adequately monitored by the concerned agencies," the order added. The Narendra Modi government wants to make Arunachal Pradesh as the gateway of South East Asia and on 15 August the first commercial  airport will be inaugurated in the state.
"The opening of two new tourist routes for Arunachal's Tirap and Longding districts will further enhance the growing tourism sector of the state. Tourists can now explore the gushing rivulets, green and vibrant orchids to picturesque scenery of these southern Arunachal districts,"  is the  Arunachal Pradesh official tweet.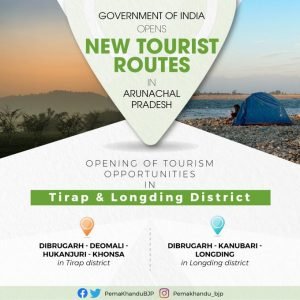 Arunachal Pradesh tourism department has also  welcomed the opening of the new tourist routes. "Now hitherto unknown, unexplored destinations of both these districts will be open for tourists. This will in turn boost the local economy and people's livelihood. Tourists will be able to experience the enchanting culture, dances and cuisine of the area,"  a post of the AP tourism department said.
"Gratitude to home minister Ami Shah and  the Central Government for opening two new tourist routes in the state. Explore gushing rivulets, green and vibrant orchids of Tirap to picturesque scenery of Longding districts. Come, we are waiting for you!," tweets Pema Khandu, chief minister of Arunachal Pradesh.