TTT NEWS NETWORK
HYDERABAD, 16 NOVEMBER 2023:
Novotel Hyderabad Airport, located at GMR Aerocity, Hyderabad is thrilled to announce its remarkable achievement in securing the prestigious honour for 'Best Hotel Restaurant in Hyderabad' for 'Food Exchange – a contemporary, casual, and multi-cuisine restaurant' at the prestigious Food Connoisseurs India Awards. This remarkable accomplishment reinforces the hotel's unrelenting dedication to providing an exceptional culinary experience to its discerning clients and indisputably establishes its reputation as the city's finest epicurean haven.
At the core of this esteemed recognition lies "Food Exchange," the distinguished dining enclave within Novotel Hyderabad Airport. Renowned for its innovative culinary approach and exceptional offerings, Food Exchange has emerged as a beacon of culinary fusion at its best.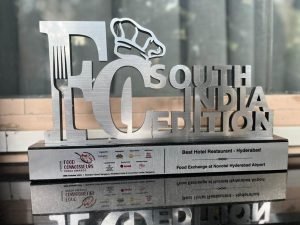 With an ingenious concept that seamlessly melds global and regional flavors, this exceptional outlet curates a diverse and eclectic menu that captivates connoisseurs and enthusiasts alike.
Mr. Sukhbir Singh, General Manager, Novotel Hyderabad Airport, expressed his gratitude, saying, "We are truly honoured to receive this award, which acknowledges our continuous efforts to provide the best dining experience in Hyderabad. This achievement reflects the hard work, dedication, and passion of our culinary team, who strive to create unique and memorable moments for our guests every day."
"Food Exchange is renowned for its innovative and eclectic menu, embodying a harmonious fusion of global and regional flavors. Our hallmark lies in delivering a captivating culinary experience that combines the authenticity of regional cuisine with the excitement of international flavors. Whether it's our sumptuous buffet spreads, à la carte dining, or exclusive culinary events, Food Exchange consistently exceeds the expectations of our discerning patrons."
Novotel Hyderabad Airport's Food Exchange continues to redefine culinary excellence, setting new benchmarks in delivering an unparalleled dining experience that captivates and delights patrons with every visit.
About Novotel:
Novotel Hotels, Suites & Resorts offers destination hotels designed as comforting and energizing places where guests can 'press pause' and take time to enjoy the moments that  really matter. The brand's wide array of hotels, suites and resorts offer a multitude of services for business and leisure guests alike, including spacious, modular rooms with natural and intuitive design; 24/7 catering with nutritious choices; dedicated meeting spaces; attentive and proactive staff; family zones for the youngest guests; multi-purpose lobbies; and accessible fitness centres. Novotel, which has over 530 locations in more than 60 countries, is part of Accor, a world leading hospitality group consisting of more than 5,000 properties and 10,000 food and beverage venues throughout 110 countries.