BY TTT NEWS SERVICE
KOLKATA, 25 AUGUST
India and Russia are negotiating with each other to accept each other's ATM/ Credit  cards systems – Rupay and Mir.
Russia is badly hit due to the sanctions imposed by the West after it has invaded Ukraine.
Once this facility is accepted it will be a huge relief to the several thousands of students who are studying in Russia and for the tourists of both these two countries visiting each other's nation.
Visitors will be immensely benefited if these cards are accepted in the ATM and POS of India and vice versa.

Mir cards can also be used in 10 other nations, including Armenia, Belarus, Kazakhstan, Kyrgyzstan, Tajikistan, Uzbekistan and Venezuela. Apart from India, Russia is in talks with China, Egypt, Myanmar, Thailand, Bahrain, Azerbaijan and Cuba for acceptance of the card. Recently, Turkey has also started accepting Mir cards.
The EU enforced economic sanctions which includes  the exclusion of seven  major Russian banks – Bank Otkritie, Novikombank, Promsvyazbank, Rossiya Bank, Sovcombank, Vnesheconombank (VEB), and VTB Bank – from The Society for Worldwide Interbank Financial Telecommunication (SWIFT), a secure messaging system for banks, which facilitates rapid cross-border payments.
Major ATM card issuers including s Visa and Mastercard ceased Russian operations, which led to the country finding alternative payments channels.
ATMs and terminals in India  may soon start accepting Russian Mir debit and credit cards, while Russia is planning to reciprocate and accept India's RuPay cards.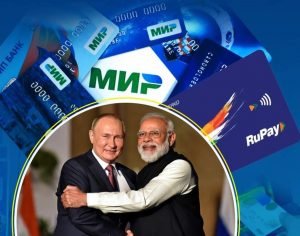 Both Russia and India are discussing options for the mutual implementation of interbank transfer services, India's Unified Payments Interface (UPI), and SPFS, the Russian version of SWIFT.
Also these two countries are continuing negotiations on expanding the use of their national currencies in bilateral trade and creating a new reserve currency within the BRICS group, which also includes Brazil, China, and South Africa besides India.
Alexander Pankin, the Russian Deputy Foreign Minister has confirmed that Moscow was negotiating with New Delhi on the use of Mir cards.
As per government record on parliament in 2021, the number of Indian students studying in Russia was 16,500 mostly studying in MBBS courses.
The total  annual fees of an MBBS course ( two semesters)  is  around Rs.3 lakhs in Russia   compared to Rs.8- Rs.10 lakhs in private medical colleges in India. Also there is no entrance exam and capitation fees to study the medical courses making it very much affordable  to the middle class Indian students who want to study MBBS.