BY TTT NEWS NETWORK
KOLKATA, 31 DECEMBER 2022
The Embassy of India in Belgrade in Serbia has issued an advisory that every Indian visiting the country would require a VISA from 1 January 2023.
From tomorrow, the government of Serbia is withdrawing the VISA free arrival to all passport holders of India and a stay of up to 30 days in the country.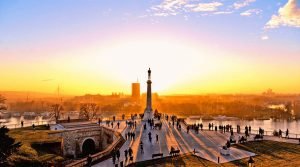 The Embassy has informed that Indian nationals wish to visit Serbia on or after 1 January 2023 should apply for VISA at the embassy of Serbia in New Delhi  or in the  country where they are residing.
However, Indian having valid VISA of UK, Schengen or US can enjoy a VISA free entry into  Serbia for upto 90 days.
Indians with valid passport and other travel documents was permitted to stay in Serbia for a month, within a period of one year.
PREVIOUS SYSTEM-
In September 2017, Serbia introduced visa-free entry into Serbia for all Indian passport holders for staying in Serbia up to 30 days. For visa-free entry, Indian Nationals traveling to Serbia must carry the following documents (as per Serbian regulations):
i) Valid Passport ( passport must be valid for at least 180 days)
ii) Return air ticket
iii) Documentary proof of confirmed hotel booking
iv) Letter of invitation
for a private visit – invitation letter certified by the relevant authority of the Republic of Serbia
for business visit – invitation letter by a company in Serbia
for tourism trip – a proof of payment for the trip issued by a travel agency (voucher or any other type of payment receipt)
 The Serbian capital, Belgrade is known as the 'Doors To Central  Europe' and the ' City of the Balkans' and has a rich cultural heritage.