BY TTT NEWS NETWORK
KOLKATA, 16 FEBRUARY 2023:
The Kolkata – Jamshedpur- Bhuvaneswar flight services which has commenced from 1 February this year under the Udan Scheme have become costlier.
From 15 February, the passengers have to pay Rs.2730 for Kolkata from Jamshedpur from earlier Rs.1999 and to Bhuvaneswar Rs.4000 from earlier Rs.2999.\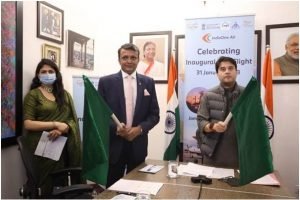 IndiaOne Air has started flight operation from Sonari Airport in Jamshedpur to Kolkata in its 9 seater aircraft from 1 February 2023.
After a hiatus of 13 years flight operations resumed from Sonari Airport in Jamshedpur under the Udan Scheme. The last flight to take off  was by kingfisher Airlines in 2010 from Sonari Airport.
The company is using the 9 Centre Grand Caravan X (C208B) aircraft for this route.
This new flight services has generated tremendous interest amongst the people of Jamshedpur and its adjoining areas in Jharkhand.
There are a lot of corporate and business travellers in the Jamshedpur- Kolkata- Bhuvaneswar route.
Union civil aviation minister, Jyotiraditya Scindia virtually flagged off the Jamshedpur – Kolkata air service. Jharkhand Chief Minister Hemant Soren was also present.
The Jamshedpur flight takes one hour to reach Kolkata Netaji Subhas Chandra Bose International Airport.