BY TTT NEWS NETWORK
NEW DELHI, 20 DECEMBER 2022
India's first indigenously built  hydrogen powered train will roll out by December 2023, announced union minister of Railways, Ashwini Vaishnaw.
The country's first hydrogen powered train has been named Vande Metro. The Vande Metro train will replace those which were built in the 1950s and 1960s, the union railway minister added. The minister said that the union government is working on  a carbon neutrality mission and the indigenously developed hydrogen train will give a giant leap forward in that direction.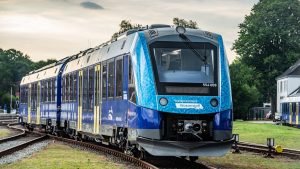 At present locomotives in India are either run by diesel or electric. There are likely to be proposals for twenty more hydrogen locomotives in the next general budget in 2023, railway ministry sources said.
These Vande Metro trains will take care of the middle and the lower middle class people of the country making the railways becoming more affordable to every Indian , the railway minister said. The hydrogen trains are also soundless.
The first world's green passenger train fuelled by hydrogen  was launched in Germany in July  this year, manufactured  at  a cost of $86 million and in the coming months the country plans to replace hydrogen with 14 diesel trains.
Alstom Coradia iLint is the world's first and only operational passenger train powered by hydrogen fuel cells. On  15 September 2022, the Alstom Coradia iLint, the world's first hydrogen train successfully traveled 1,175 km without refueling its hydrogen tank. So far Alstom has developed 14 such trains.