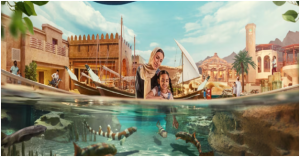 TTT NEWS NETWORK
KOLKATA, 26 AUGUST 2023:
The virtual Yas Island experience was developed by Super League (Nasdaq: SLGG) and initially breaks through on leading platform Roblox, accessible at Yas Island Tycoon – Roblox. Users' digital avatars take a thrilling journey through key Abu Dhabi landmarks on Yas Island and beyond, including SeaWorld Yas Island, Abu Dhabi, Yas Marina Circuit, Etihad Park, Aldar Square, twofour54's Yas Creative Hub, and an Experience Abu Dhabi dedicated area featuring Louvre Abu Dhabi, Mamsha Al Saadiyat, Sir Bani Yas Island, Al Ain Oasis and Al Jahili Fort. Players will be able to traverse the 25-square-kilometre virtual site and experience a playable, socially engaging world designed to entertain and inform audiences globally.
Throughout a blend of interactive experiences, immersive environments, games, and soon to come one-of-a-kind events, players can explore and build cultural and entertainment attractions within Abu Dhabi. As players progress through the virtual destination and its attractions, they will experience more adventures such as theme park rides, driving across Yas Island in race cars and constructing virtual homes, to name a few. Customisable avatars and surprise awards are part of every player's personalised adventure.  This gamified experience will continually evolve with new partnerships, collaborations and experiences.
Mr. Saeed Al Fazari, Strategic Affairs Executive Director at DCT Abu Dhabi, said: "This immersive adventure in the virtual realm is the latest example of Abu Dhabi's commitment to utilising innovation and creativity to reach ever wider audiences. While we have shared Abu Dhabi with millions of visitors in the real world, today marks the start of a new phase in our journey. Everyone, wherever they are, can experience the emirate from the comfort of their own home. At DCT Abu Dhabi, we have been on a mission to progress, protect and promote the emirate as a leading tourism destination, and by offering virtual experiences, we aim to share Abu Dhabi with the world in a new way, inspiring curiosity and excitement about everything the UAE capital has to offer."
Taghrid Alsaeed, Executive Director of Group Communications and Destination Marketing at Miral, added: "In today's rapidly evolving digital landscape, it is imperative to remain relevant to all guests, including those in the virtual realm. The launch of Yas Island's digital experience is an exciting step in Miral's commitment to digital transformation, harnessing advanced technology to deliver highly personalized and memorable experiences. While Yas Island has already solidified its position as a global entertainment and leisure destination, we are excited to be able to welcome a new category of customers, and we look forward to offering exceptional and immersive digital experiences that redefine the boundaries of entertainment."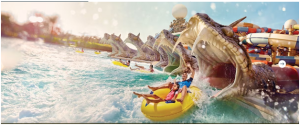 Rashed Al Omaira, Chief Commercial Officer at Aldar Development, said: "The virtual Yas Island experience unlocks new opportunities for a global audience to explore the island as a world-class destination to live, visit, and work. The effective use of innovative content creation not only enables us to tell the story of Abu Dhabi but also allows people around the world to become immersed in it. We are excited to see people interact with Aldar's assets on Yas Island in the virtual world and hope it inspires them to take a trip to Abu Dhabi soon."
Mark Whitehead, CEO of twofour54, said: "Through our community of leading international and regional media businesses, we see first-hand that demand for content that tells Abu Dhabi's inspiring story has never been higher. The opportunity to explore one of the emirate's most vibrant destinations using a highly interactive platform is a perfect way to meet this demand. It is yet another demonstration of virtual content creation happening in Abu Dhabi."
Saif Rashid Al Noaimi, CEO of Ethara, said "At Ethara, our ambition is to be the gatekeepers of first-to-market events and to unlock unique opportunities in events, activations, and entertainment. We are delighted to be part of this unique and innovative experience and are proud to be leading the way for the event industry in the region. The virtual Yas Island experience is in line with both our vision at Ethara and Yas Island's to highlight itself as a global creative hub and leading entertainment destination. We are constantly seeking ways to deliver thrilling experiences for our fans, and delivering moments that matter."