BY DEBAJYOTI CHAKRABORTY
KOLKATA, 19 JULY 2022
USA based hospitality behemoth Marriott International Inc has announced setting up of five greenfield five star hotels in Jharkhand and West Bengal and has signed an agreement with the Beekay Group and Srima Group.
For setting up the four hotels about Rs.1200 crores will be pumped in Jharkhand and West Bengal will get an investment of Rs.500 crores.
Besides these projects, construction work of a 112 room Courtyard Hotel  by Marriott of Beekay Group in Ranchi is under construction. The pact was signed in 2021.
The Le Meridien brand is making its debut in Ranchi. Besides Fairfield by Marriott Ranchi, Fairfield by Marriott Deoghar, Fairfield by Marriott Maithon, Courtyard by Marriott Asansol will be set up.
The agreement is expected to add over 700 rooms to Marriott International's existing portfolio in India.
All these hotels will be fully operational between 2024 and 2026.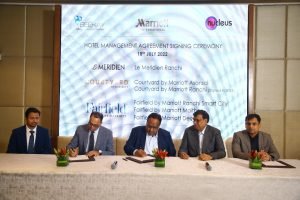 " We are thrilled to be working with the Beekay Group again to bring new five hotels in Jharkhand and West Bengal. With this multi signing agreement , we are looking to urbanize and enter emerging business locations , in some of the most commercially and culturally important cities of the East. The strategic collaboration in the state encompasses properties spanning our premium lifestyle segment to select service brands that will enable us to better cater to our guests' needs, while further strengthening our presence in India,"said Rajeev Menon, President , Asia Pacific ( excluding Greater China).
Rajeev Menon further said that Marriott International, which operates 131 hotels in India, is growing upwards of 20 % over 2019 levels in the country in terms of actual business revenues. Its signings in the country are up 60 % over last year, he added.
" It's my pleasure to have forged this strategic collaboration with Marriott International and we are thrilled to welcome them to the Beekay family. May this mark the start of a collaboration  that grows from strength to strength  in the near future. We are eagerly looking forward to the opening of the first Courtyard by Marriot at ranchi ,followed by the other Marriott International Hotels  set to open in quick succession  across Ranchi and the state of Jharkhand.These hotels will provide world class service and hospitality to travellersarriving in Jharkhand and are a testament to our belief and confidence in the market and our commitment towards the overall development of our beloved state and the country. It will also help put our state on the tourism map of India,"said Bishnu Kumar Agarwal, CMD of Beekay Group.
" It is indeed a matter for pride for all of us that such a globallyrenowned brand is coming to Asansol, and hope that in the years tocome will give a big boost to the travel and tourism industry in the state,"said Avishek Sharma, Director of Shri Maa Group.
The HOTELS :
Le Meridien, Ranchi – The Paris born brand  in Ranchi will help travellers to explore in style, savor the good life and enjoy experiences that enrich and broaden horizons. The 175 room hotel is located 10 kilometres away from Birsa Munda International Airport in Ranchi. It is expected to be operational from 2025.
Courtyard by Marriott Asansol – located along the G.T.Road in Gopalpur , a prime arterial road, is part of a development project that comprises the upcoming Nucleus Mall and hotel.the 140 room hotel with modern , well designed rooms and facilities  will offer travellers an elevated experience to relax and recharge, whether travelling for work or pleasure. It will open in 2026.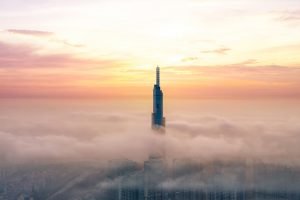 Fairfield by Marriott Maithon- is located within four kilometre drive away from popular tourists spot, the DVC's Maithon Dam and walking distance to the Barakar River. Guests can immerse themselves in the natural surroundings of the destination and enjoy breathtaking views of the Maithon Dam. It will have 130 rooms and will be operational in 2026.
Fairfield by Marriott Ranchi- It is located at the southeastern part of the city and about four kilometres away from Birsa Munda International Airport. There will be 128 rooms and is expected to open in 2025. The city's pride , Jharkhand State Cricket Association Stadium, an international cricket stadium and the famous Jharkhand Urban Planning Management Institute are both situated in the immediate
vicinity of the hotel.
Fairfield by Marriott Deoghar- Expected to be opened in 2025, the hotel is located about eight minutes away from newly inaugurated Deoghar Airport. Guests staying here will enjoy the warm hospitality signature of Fairfield, paired by the beauty and simplicity inspired by the locale. The property will be close to cultural and historical landmarks in the city including two temples.
Marriott International, Inc is based in Bethesda, Maryland, USA and encompasses a portfolio of more than 8000 properties spanning 139 countries and territories. Marriott operates and franchises hotels and licenses vacation ownership resorts all around the world. The company offers Marriott Bonvoy, it's highly awarded travel programme.
On 24 June this year Marriott International signed a deal with Vinepearl to add eight hotels in Vietnam. It will add another 2200 rooms in the country.
BEEKAY GROUP
Beekay Group is a well established production house (majorly providing packaging solutions) and a renowned real estate company based at Ranchi headed by Bishnu Kumar Agarwal.
Shri Maa Group
West Bengal based, Shri Maa group is currently into food processing (wheat flour manufacturing) industry, manufacturing of non woven sacks and various varieties of face mask and PP woven sacks which the company supplies to major cement giants , fertiliser companies and also caters to the cereals and food industry.The company is also setting up the upscale nucleus mall in Gopalpur of Asansol.