BY TTT NEWS NETWORK
KOLKATA, 26 JANUARY 2023
After huge sucess of the much hyped  high speed Vande Bharat Express trains, presently operating in select routes, the Indian Rilways is now to planning to run Mini Vande Bharat Express in Tier I and Tier II cities which have a less population.
It is learnt that the Indian Railways (IR), the world's largest carier has planned to roll out Mini Vande Bharat Express which will be semi high speed and will have total eight coaches, which is almost half of its bigger version.
 Integral Coach Factory (ICF) in Perambur in Chennai  has been given orders to built the first such prototype of the Mini Vande Bharat Express, which will be  a part of the  Indian Railways first pilot project. RDSO has also been asked to work along with ICF.
 At present Indian Railways have been operating eight Vande Bharat Express trains, all inauguarted by Prime Minister Narendra Modi and all these trains are opeating with 16 coaches. These trains run seven to eight hours.
 The first pilot project of the Mini Vande Bharat Express trains  may start between Coimbatore and Madurai. Passenger comfortability will be given focus along with the semi high speed travel between the Tier I and Tier II cities.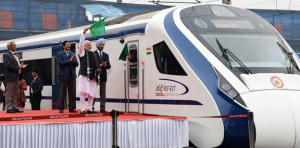 The coaches of these mini vande bharat trains can also be upgraded to 16, 20 0r 24 coaches according to the requirements in the future.
Focus is on local and intra city travel, where such mega Vande Bharat Express trains are not required due to lesser number of population. The mini vande bharat trains will run for three to four hours and are likely to be luanched after April 2023.
The Indian railways is planning to run 75 Vande Bharat Express trains by the end of this year from currently eight operational trains. A sleeper version of the Vande Bharat Express train will also be introduced soon.
The possible routes of the mini vande bharat express trains are – Coimbatore to Madurai, Amritsar to Jammu, Kanput to Jhanshi, Nagpur to Pune and Jalandhar to Ludhiana.
 In the next three years Indian railways will operate 400 Vande Bharat Express Trains.