BY TTT NEWS NETWORK
KOLKATA, 28 JANUARY 2023
The Vande Bharat Expresss, the much hyped semi high speed train of Indian Railways is likely to run  between  the pilgrimage city of Puri and City of Joy via Bhuvaneswar  from next month.
Though the dates of the commencement of the train and fares have not been announced but Indian railway sources has  confirmed that the Howrah to Puri Vande Bharat Express will operate from February 2023.
The train has 16 coaches with 360 degree revolving seats and foods are also served inside the train.
The stoppages of stations have also not been announced. However IR sources said that the travelling time will be decreased.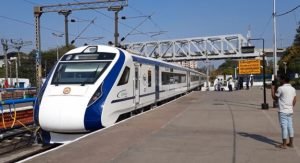 Prime Minister Narendra Modi has recently  flagged off the first Vande Bharat Express train in eastern India from Howrah to New Jalpaiguri and the passengers are reaching their final destinations with eight hours.
Many tourists, honeymooners and pilgrims from West Bengal visits Puri, the place known as the abode of Lord Jagannath ( Jagannath Dham). Puri in Odisha is also popular for its beaches. Also the Konarak Temple is another tourism hotspot.
 This will be the 9th Vande Bharat Express train in the country and so far PM Narendra Modi has flagged off all the eight previous Vande Bharat Trains.
 The tenth Vande Bharat Express train is likely to run between the national capital of Delhi and Pink City of Jaipur. It will take less than two hours to reach the capital of Rajasthan from New Delhi.
 By the end of this year Indian Railways have plans to operate 75 Vande Bharat trains and 400 trains in the next three years.
 The Integral Coach factory in Chennai is manufacturing these Make in India Vande Bharat Express trains.