BY DEBAJYOTI CHAKRABORTY
KOLKATA / ASANSOL, 28 NOVEMBER 2022
Birbhum MP , Shatabdi Roy has made a comeback in movies with her debut in a Hindi feature film, 'The Jangipur Trial', and is at present busy with her shooting in Asansol District Court.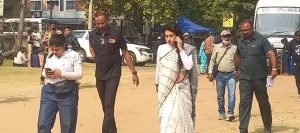 Since yesterday, the final phases of the shooting of the film, The Jangipur  Trial has started in Asansol District Court.
" I have come here for the shooting of my upcoming Hindi feature film, The Jangipur Trial, which is based on a real life story. The last phase of the shooting has begun in Asansol Court and the movie will be released next year," said Shatabdi Roy.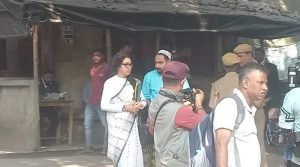 In the hindi movie, The Jangipur Trial, a courtroom thriller, Shatabdi Roy is set to play the role of Advocate Diya Haldar, who reopens a criminal case after 35 years, which virtually opens a Pandora's box.
Debaditya Bandopadhyay is the director of the movie and produced by Amit Behl and Debaditya Bandopadhyay.
The other cast members include Kabir Bedi, Javed Jaaferi,Amit Behel, Rajesh kattar, Zakir Hussian etc.
The movie has been shot in the virgin destinations of Berhampore, Murshidabad, Azimganj, Moregaon, Jangipur and Asansol.
" I am really happy that a number of Bollywood films  are being shot in different locations in Asansol. Due to my special connections with Bollywood I am really eager and excited to see the release of these movies and as the state's Tourism minister I urge all directors and film producers to choose West Bengal as their next film shooting destinations," said Babul Supriyo.
The shooting of another Bollywood 2023 upcoming movie, Capsule Gill starring Akhshay Kumar is also going on at different locations of colliery areas of Eastern Coalfields Limited (ECL) presently.
" We have allowed the shooting crew of Capsule Gill movie to shoot the film in our premises which is a biopic of the Mahabir Colliery Disaster (1989) hero Jaswant Singh Gill," said Punyadip Bhattacharya, CGM (PR) of ECL.
Another superhit  upcoming action packed  film, Pushpa -2 starring South superstar  Allu Arjun is also set to be shot in the red soil of Bankura district  in South Bengal very soon.
Both the state chief minister Mamata Banerjee and tourism minister Babul Supriyo are keen to promote West Bengal as a film shooting destination.
The CM has already  announced plans to set up a Film City in Purulia for film shooting  like the Ramoji Film City in Hyderabad.