BY TTT NEWS SERVICE
KOLKATA, 12 NOVEMBER 2022
The Prime Minister, Shri Narendra Modi has urged the citizens to visit Nadabet and other border areas as part of Seema darshan projects ( border tourism)  to further tourism.
In response to a tweet by G Kishan Reddy, Minister of Tourism, Culture and Development of North Eastern Region of India, the Prime Minister said,"Seema Darshan Project adds a new dimension to the tourism sector. It gives the opportunity to appreciate the resilience of those who live on the borders.  I'd urge you all to visit Nadabet and other border areas…."
PM Narendra Modi also complimented all those involved in eco-friendly and sustainable development. In response to a tweet by the Border Roads Organisation (BRO), he said that from this, the infrastructure creation and circular economy, both will get an impetus
Union tourism and culture minister, G.Kisan Reddy has earlier tweeted, "India's borders present a unique experience of witnessing our nation's brave personnel on duty, while expressing our gratitude to Maa Bharati! Here's a story of the Nadabet Region which is a part of Seema Darshan Project."
Nadabet ( Indo – Pak border)  is India's newest border destination and can be termed as the Wagah border of Gujarat.
Attractions –  The thrill of being at ZERO POINT- the international border area which separates the two nations, is an experience of a lifetime.  It allows the tourists to watch the border from an extreme close up range.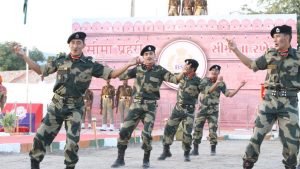 Retreat Ceremony – witness the thumping steps and swingings by the BSF jawans ,in complete synergy to the beating retreat every evening at the Parade Grounds.
Ajeya Prahari – pay homage to  those who have fought till the last breath for the country's safety and sovereignty. The Ajay Prahari Memorial is a space that honours the greatest sacrifice made by the sentinels of the country.
A weapon display and photo gallery at Nada Bet includes guns, tanks and other sophisticated devices that help in keeping the border and inland places secure. As an ode to the camels and to showcase their expertise and discipline, a camel show and bird watching  is presented for the visitors.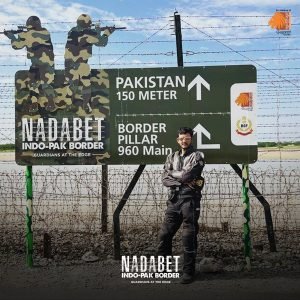 MIG – 27 operations.
Tourists need to carry their ID Cards.
LOCATION : LOLOCATION
LOCATION:
T-Junction, India-Pakistan Border Rd., Nadabet, Banaskantha – 370165, Gujarat.
TIMINGS (MONDAY CLOSED)
Visit Time: 9 am to 7 pm
Parade Time: Half an hour before Sunset
Zero Point Visit Time: 9 am to 4 pm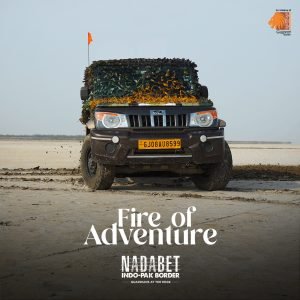 How to get there
·        By Road Nadabet by Road- Suigam: 20 Km, Vav: 48 Km, Radhanpur: 69 Km, Bhildi: 121 Km, Deesa: 142 Km, Palanpur: 169 Km, Mehsana: 187 Km, Gandhinagar: 246 Km, Ahmedabad: 267 Km.
·        By TrainNearest Railheads: Bhildi, Deesa and Palanpur.
·        By AirThe nearest airport to Nada Bet is in Ahmedabad at 203 km. The drive from Ahmedabad to NadaBet takes about 5 hours. Palanpur (145 km), Dheesa (118 km) and Bhildi (95 km) are the closest railheads to Nada Bet. Other junctions that you may encounter on a road trip here are Suigam (20km), Vav (59 km), Radhanpur (75 km) and Mehsana (166 km). Use the Ahmedabad airport (245 km) to connect via flights.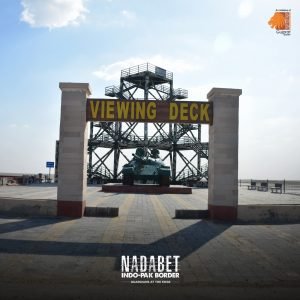 Recently, the Narendra Modi led central government has been promoting and opening up the border tourism in the country and has allocated funds for border tourism in Rajasthan already. Projects have been undertaken at Tanot Mata Temple area to promote tourism in Indo – Pak bordering areas in Rajasthan. Rs.125 crores have been spent by Gujarat Tourism and Border Security Force (BSF)  Gujarat Frontier to set up the Seema Darshan  tourism project  for the civilians  at Indo – Pak border in Banaskantha district.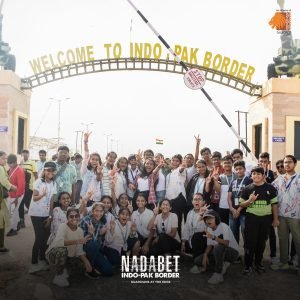 ATTRACTIONS
About Rs.125 crores have been spent by Gujarat Tourism and Border Security Force (BSF)
Experience India's Newest Border Destination
Retreat Ceremony
Indo-Pak Border
MIG-2