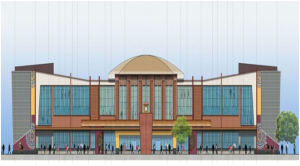 TTT NEWS NETWORK
KOLKATA, 28 AUGUST 2023:
PM  Narendra Modi has launched an exciting journey of transformation as the iconic Barddhaman Junction of Eastern Railway, gears up for a remarkable redevelopment under the esteemed Amrit Bharat Station Scheme. This visionary project is a testament to the commitment of Indian Railways towards delivering state-of-the-art amenities, enhanced passenger experiences, and fostering local economic growth. The forthcoming transformation of Barddhanan Junction stands as a shining example of this mission in action.
The redevelopment project will see Barddhaman Junction undergo a modern architectural overhaul that perfectly blends contemporary design with its geographically significance. The station's new look promises to be a blend of aesthetics and functionality, setting a new benchmark for railway station design.
The heart of the redevelopment lies in the enhancement of passenger amenities. Passengers can look forward to sprawling waiting areas, beautiful circulating area, improved facade including its lighting, aesthetically designed interiors, waiting halls, ticket counters, provision of good quality durable furniture, provision of 14 nos. of lifts and 07 nos. of escalators, provision of standard signages for better accessibility and an array of conveniences aimed at ensuring their comfort and satisfaction. All these improvement will be materialized at Barddhaman Junction at a cost of Rs. 64.2 Crore.
The project is committed to sustainability, with eco-friendly features such as energy- efficient lighting, waste management systems, and a focus on creating a greener station environment.
The redeveloped station will offer commercial spaces to local businesses, creating a vibrant marketplace within the station premises and contributing to the local economy.