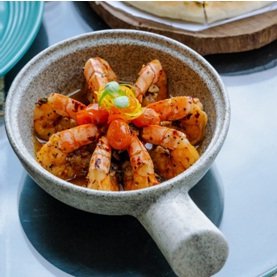 As prepared at
Seasonal Taste     
The Westin Kolkata
By Chef Indranil
INGREDIENTS:
1/2 cup extra-virgin olive oil
10 large cloves garlic, finely minced
1 teaspoon red pepper flakes
1 pound tiger prawns, deveined, shells left on
2 tablespoons lemon juice, from about 1/2 lemon
1/4 cup Spanish brandy, or dry sherry, optional
1 teaspoon smoked or sweet paprika, optional
Kosher salt, to taste
Freshly ground black pepper, to taste
1 tablespoon fresh parsley leaves, chopped
1 baguette, sliced, for serving
METHOD:
Gather the ingredients.
In a large (12-inch) sauté pan or heavy frying pan, warm the olive oil over medium heat.
Add the garlic and red pepper flakes, lower the heat, and sauté for about 1 minute or until the garlic just begins to brown. Be careful not to let it burn.
Raise the heat to high and immediately add the shrimp and lemon juice, along with the brandy and paprika, if using. Stir well to coat the shrimp and sauté until the shrimp turn pink and start to curl, 3 to 5 minutes. Remove from the heat and season to taste with salt and freshly ground black pepper.
Transfer the shrimp to a warm plate and pour over the sauce, or you can serve straight from the pan. Sprinkle with the chopped parsley and serve with slices of fresh bread. Enjoy.
Wishing you the goodness of Spanish gambas aljilo,
Chef Indranil.
Seasonal Taste