BY DEBASHREE CHAKRABORTY
KOLKATA, 21 MARCH 2023:
Locals call it the only VVIP resort in the famous sand dunes of Jaisalmer. Till date about 60 more rresorts have come up, including the Taj Group, but still Samdhani Resort which is run and operated by the Rajasthan Tourism Development Corporation (RTDC) has remained the most hot property in the world famous deserts of Rajasthan.
The inhabitants and the guests of Samdhani RTDC Resort in Jaisalmer includes the names of Bolywood Sahenshah Amitabh Bachchan, World Bank President, Sir James David Wolfensohn, WIPRO chairman, Azim Hashim Premji, Chief of Indian Army,  General Sundarrajan Padmanabhan, past Presidents,  Prime Minister of India etc.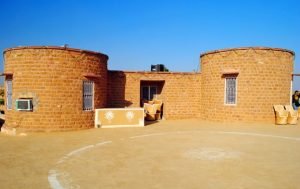 Each and every VVIP coming or visiting Jaisalmer stays at Samdhani Resort of RTDC.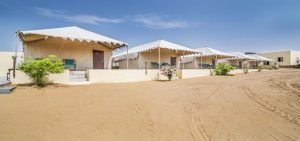 Talking to www.thetravelandtourismtimes.com, Mr. Hinglaj Dan Ratnoo, presently the OC of Rajasthan Tourism Development Corporation (RTDC) Kolkata office has informed that he was the deputy manager of the property and had welcomed Amitabh Bachchan.
" I really feel greatful to work in the most hot property of RTDC , Samdhani Resorts as deputy manager from 2000 to 2010 and Big B has visited on 31 December 2007 and Azim Premji in 2008," added Mr. Hinglaj Dan Ratnoo.
Even legendary painter, M.F.Hussein had shoot a sequence of his film Meenakshi, starring Tabbu in Sam Dhani Resorts.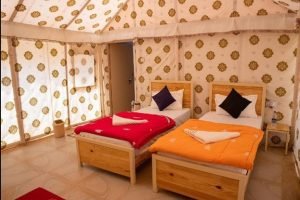 It is situated about 45 kilometres away from Jaisalmer City.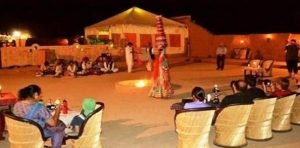 The Samdhani Resort started in 1998 with only eight cottages. Today besides the eight cottages it has also added ten swiss tents.
The main advantages of Samdhani Resort is that it is safe and secured and attracts a large number of foregn visitors.
The main attraction is watching the magnificient scenic beauty of the  sun rise and the sunset in the sand dunes of the deserts in Rajasthan from the resort with camels roaming all arround.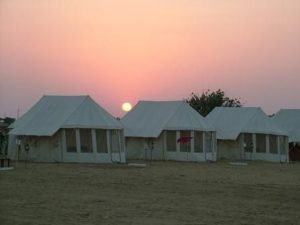 The camel safari through the sun – kissed  dune of dessert leaves tourists equally amazed.
The resort has breath taking cottages with all the modern amenities and that too at an affordable price. Fully decorated tents are also pitched during the season from the month of September to March. A variety of continental, Indian and traditional dishes with an additional option of bar well stocked in IMFL, Wines and Beer with Barbeque food makes the guest have a pleasant experience. Guest who like to enrich their experience with desert and local culture would find this place most suitable. The hotel provides the travellers safety, security and comfort.