BY DEBAJYOTI CHAKRABORTY
KOLKATA, 2 NOVEMBER 2022
The three day event of the third edition of National Tribal Dance Festival (NTBF) has started in Raipur of Chattisgarh from 1 November. It is organised by Chhattisgarh Tourism Board.
The three daylong event is organised under the Tourism and Culture department of Chhattisgarh state. This festival aims to unite the tribal communities and provides an opportunity to educate about their rich culture for all. Tribal groups from different states and union territories, from countries like Uganda, Uzbekistan, Palestine, Nigeria, Sri Lanka and more have been a part in NTDF's past editions. Participants in groups take part in this mega dance competition and their theme-based performance describes their lifestyle and traditions.
The state has 44% of the forest cover and 32% of tribal population therefore, it offers immense opportunities for Eco-tourism, Ethnic-tourism, Adventure tourism and Cultural tourism.
Culture and art is the best way to know any religion, caste or group. The festival  brings the tribal and aboriginal communities into the focus of the world. The festival acts as a  platform to share cultural values, traditions and rich heritage of the tribal communities with the world . Witnessing Indian and international tribes at one place displaying their culture and roots is an opportunity of life.
Chattisgarh celebrates its 23 rd founder's day on 1 November. To mark the occasion, the National Tribal dance Festival has been held since 2019.
More than 1500  artists from 28 states and seven union territories along with ten foreign countries – Serbia, Togo, Egypt, Mozambique,Indonesia, Russia, New Zealand, Rwanda, Maldives , Mongolia have participated in the third edition of the National Tribal Dance Festival.
Speaking on the inauguration ceremony, CM of Chattisgarh, Bhupesh Baghel said that tribals always wish that all humanity should have equal rights in nature, and everyone should do their part in protecting nature and preserving primitive cultures is the goal of the National Tribal Dance Festival.
" Several efforts have been made to preserve Chhattisgarh's culture. Today is a moment of self pride for us," CM Bhupesh Baghel added.
Domati Keekan, Assam's special cultural dance, Dhamali dance by artists of Jammu and Kashmir, dances of Odisha, Jharkhand, Maharashtra, Sikkim, Lakhsadeep, Mizoram and Nagaland have already hogged the limelight and have captivated the audience  in the three day  national tribal dance carnival at Raipur.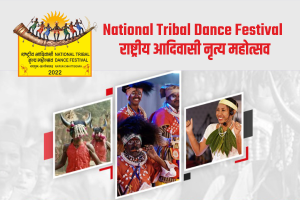 §  This time, two themes have been kept in the Tribal Dance Festival. The first theme is 'Tribal dance on harvesting' and the second theme is 'Tribal traditions and customs'.
§  Prizes worth Rs 20 lakh will be distributed to the winners. Prizes of Rs 5 lakh will be given for the first position, Rs 3 lakh for the second position and Rs 2 lakh for the third position.
How to reach :
The festival is organised at Raipur, and the city has its own airport. So flying is easy here and with Raipur railway station, the train journey is also an easy alternate option. Raipur is well connected by Raipur-Bilaspur Expressway via NH130 for road journeys. Other Attractions: Visiting Raipur for Tribal dance festival open up the doors for exploring Ghatarani waterfalls, Nandanvan Zoo, Swami Vivekanand Sarovar, MM Fun City, beautiful temples and Shahid Veer Narayan Singh International Cricket Stadium etc.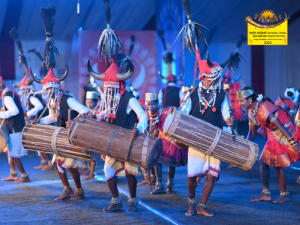 Activities IN NTDF :
1.       Dance Festival
2.       Tribal Dance
3.       Folk Dance
4.       Food Festival
5.       International Artists
6.       Food Festival
7.       Exhibition
8.       Fair
9.       Fun Rides
10.   Tribal & Local Product Sale
11.   Departmental Stalls.