BY TTT NEWS NETWORK
KOLKATA, 19 FEBRUARY 2023
Thirteen rare orinental white back vultures and seven numbers of rescued Himalayan Griffon vultures have been released in the Buxa Tiger Reserve in Alupurduar of North Bengal recently by the state forest department along with the Bombay Natural History Society.
In 2019, for the first time vultures were released into Rajabhat Khawa Vulture Breeding Centre in Buxa. So far 31 white back vultures have been released.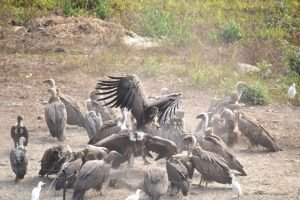 In July last year, ten numbers of critically endangered species, the white backed vultures have been relsaed in the wild at Buxa Tiger Reserve from the Raja Bhat Khawa Vulture Breeding Centre.
All the vultures will be fitted with radio colars and will be tracked through the satellite systems.
These are the landmark moment in the efforts of vulture conservation in india, according to wildlife and nature experts.
In India, conservation and  breeding of three critically endangered species of vulture projects  are being undertaken  — oriental white backed vultures, long billed vultures, and slender billed vultures — is being carried out at Pinjore in Haryana, Rajabhat Khawa in West Bengal, Rani in Assam, and Van Vihar in Madhya Pradesh respectively.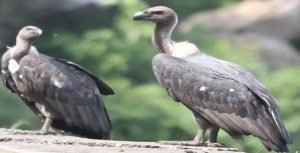 According to Bombay Natural History Society ,India had a vulture population of around 40 million till forty years ago, but there has been a sharp decline since the 1990s and about 99 percent extinct due to a drug used in  cattle  called diclofenac.
The extiction of vultures from indian green ptaches have been disturbing the forest eco system leading to the vulture breeding projects undertaken by the government in the country.
Nine vulture species are found in India.