BY DEBAJYOTI CHAKRABORTY
KOLKATA, 4 NOVEMBER 2022
Barely fifteen days are  remaining  for the greatest sports show on earth, FIFA World Cup 2022, and soccer crazy  Bengalies are delighted with the twin Bong connections during the month-long event in Qatar where 32 nations will participate. India has never played in a FIFA World Cup, but two Bengal companies will actively participate in this year's mega  tournament.
Firstly, a company from West Bengal , BMC Electroplast has supplied the instrument transformer system through which the stadiums will be lighted and secondly,  West Bengal Livestock Development Corporation , Haringhata will supply goat and sheep packaged meat for the FIFA World Cup to Qatar.
Everytime the world football superstars like Ronaldo, Lionel Messi, Neymar Junior, Harry Keyne etc  steps into the stadiums of Qatar the world will watch them through their television sets by the lighting system supplied by a company situated about 3376 kilometres away at Bengal, BMC Electroplast at the eight stadiums.
Saptarshi Mitra of BMC Electroplast said that its is a great achievement for this Bengal based company and they have been selected after beating the companies of USA and other countries.
The transformer will protect the electrical apparatus of the stadium from the high voltage electrical lines. Shantanu Mitra, an ex student of NIT Durgapur and others have started this company.
All the eight stadiums in Qatar has been fitted with electrical equipments supplied by BMC Exlectroplast including the stadium of Lusial,  which is an architectural marvel where the final match will take place at Doha on 18 December.
State animal husbandy minister Swapan Debnath has flagged off the first batch of imports of packaged goat and lamb meat of Haringhata on Thursday.
"There will be total six import consginments totalling 1.2 mettric tonnes of weight of packaged goat and lamb meat from Haringhata and the state government organisation will get Rs.1 crores in foreign currency,"said Swapan Debnath.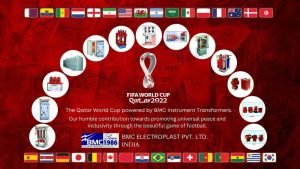 He said that recently Haringhata has received the permission of Agriculture and Processed Food Poducts Export Development Authority (APEDA) for license to  exporting processed meats.
And now after Qatar, the West Bengal Livestock Development Corporation has planned to export its famous Haringhata brand to other foreign countries like Kuwait, Hong Kong and Maldives.
" It's a great news that two Bengal companies have bagged contracts in Qatar World Cup and as soccer crazy  Bengalis we are delighted,"says Imran Ahmed Khan, General Secretary of Calcutta Leather Complex tanneries Association, who after watching the Russia World Cup in 2018 is again all set to watch the Qatar World Cup 2022 with his friends and is going later this month.
This is the first time ever that the football world cup will be held in any country in the middle east. The timings of the matches and the distance between other stadiums are the two most attractions for football fans of the country and a record number of Indians are going to watch the Qatar World Cup in 2022 from India and also from two soccer crazy states of  Bengal and Kerala.
A football crazy  woman from Kerala is already in the news for going to Qatar along with her SUV to watch the matches.
Proud moment for Bengal!

WB-based electrical component company, BMC Electroplast, is going to be the FIRST EVER INDIAN COMPANY to provide TRANSFORMER to #WorldcupQatar2022!@MamataOfficial has generated new opportunities for WB in GLOBAL MARKET & ensured EASE OF DOING BUSINESS! pic.twitter.com/fi0wNzY3pS

— Sudip Raha (@aitcsudip) October 18, 2022