BY TTT NEWS NETWORK
NEW DELHI, 11 FEBRUARY 2022:
 Vistara, India's finest full-service carrier and a joint venture of Tata group and Singapore Airlines, has become the first airline in India to add Airbus A321LR to its fleet. The long-range variant of the Airbus A320neo (which is part of the order of 50 aircraft from the Airbus A320 Family placed in 2018) arrived in Delhi on 4 February 2023 from Airbus' production facility in Hamburg, Germany.
With an increased maximum take-off weight of 97 tonnes and the third auxiliary center fuel tank, enabling the aircraft to cover longer range; the Airbus A321LR opens an array of possibilities for Vistara as it focuses on expanding its international network.
Mr. Vinod Kannan, Chief Executive Officer, Vistara, said, "We are excited to welcome our first A321LR to our growing fleet. This addition reiterates our stronger focus on international expansion, and enables us to offer longer range connectivity to our customers while also maintaining greater fuel efficiency."
Powered by next generation CFM LEAP-1A engines that ensure enhanced operational efficiency along with significantly reduced carbon footprint, the addition of the A321LR is in line with Vistara's commitment to minimising impact on the environment by maintaining a fleet of young and fuel efficient aircraft. The airline recently bagged ch-aviation Asia's 3rd Youngest Aircraft Fleet Award for the second consecutive year.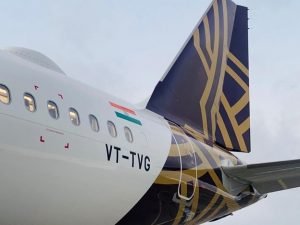 The A321LR aircraft has a total of 188 seats in Vistara's three-class cabin configuration – 12 lie flat seats in Business Class, 24 seats in Premium Economy, and 152 in Economy Class. All seats are equipped with 4-way adjustable headrests, in-seat power/USB charging ports, state-of-the-art In-Flight Entertainment (IFE) system featuring a multimedia library with up to 700 hours of content, and onboard Wi-Fi to accentuate the overall in-flight experience for the passengers.
Vistara is India's highest-rated airline on Skytrax and TripAdvisor, and it has been the winner of several 'Best Airline' awards, besides being lauded for world-class cabin cleanliness and upholding high safety standards. The airline has recently been featured amongst World's Top 20 Airlines while being recognised as the 'Best Airline in India and Southern Asia' for the second time in a row, 'Best Airline Staff Service in India and Southern Asia' for the fourth consecutive year, 'Best Cabin Crew in India and Southern Asia' for the second time in a row and 'Best Business Class in India and Southern Asia' at the coveted Skytrax World Airline Awards 2022.
About Vistara (TATA SIA Airlines Limited):
TATA SIA Airlines Limited, known by the brand name Vistara, is a 51:49 joint venture between Tata Sons Private Limited and Singapore Airlines Limited (SIA). Vistara brings together Tata's and SIA's legendary hospitality and renowned service excellence to offer the finest full-service flying experience in India. Vistara commenced its commercial operations on January 9, 2015, with an aim to set new standards in the aviation industry in India and it today connects destinations across India and abroad. The airline currently has a fleet of 53 aircraft, including 42 Airbus A320neo, six Airbus A321, two Boeing 737-800NG and three Boeing 787-9 Dreamliner aircraft and has flown more than 42 million customers since starting operations