BY TTT NEWS NETWORK
KOLKATA, 9 MARCH 2023:
State tourism department Principal Secretary, Nandini Chakraborty  has received the Best Cultural Destination Award from the Pacific Asia Travel Writers Association (PATWA) from Edmand Bartlett, tourism minister of Jamaica,  Alain. St. Ange, President of African Tourism Board  at ITB -2023 in Berlin.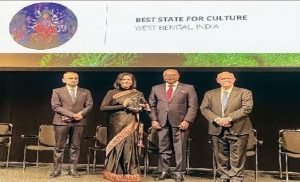 The PATWA award is given in recognition of invaluable contributions made to tourism promotion by governments, individuals, and organizations worldwide and has been given in cooperation with Messe Berlin.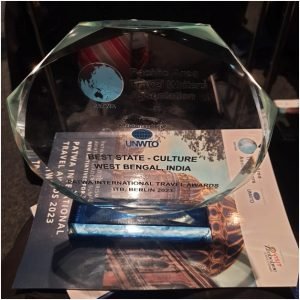 Tourism ministers of eight countries were present during the event. Representatives of over 180 countries have participated in the ITB- Berlin 2023. A document of West Bengal's tourism attractions have been shown to promote the state globally.
Pacific Asia Writers Association have been giving this award since the past 18 years. The 2023 edition of the Pacific Area Travel Writers Association World Tourism and Aviation Leader's Summit on New Initiatives for World Tourism has been  followed by the PATWA International Travel Awards on Wednesday, March 8th 2023  at City Cube Berlin at 2:30 pm.
"Congratulations Tourism Department, Government of West Bengal for Winning the PATWA Award 2023 for the Best State for Culture during a ceremony at ITB Berlin," said Mr. Debjit Dutta, Chairman (WB) of Indian Association of Tour Operators (IATO), who was also present at ITB Berlin during the occasssion.
Yesterday  concluded the 2023 edition of the Pacific Asia Travel Writers association (PATWA) World Tourism & Aviation Leaders Summit and the PATWA International Travel Awards at ITB Berlin in the presence of five prominent speakers from the travel trade, tourism ministers from 8 countries, a line up of 33 award winners and a packed, full house with over 120 guests including 40 journalists from around the world. Watch this space for the complete list of award winners!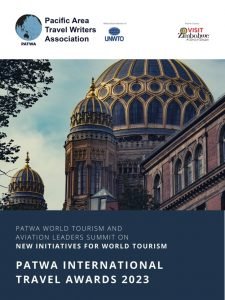 About the PATWA:
The Pacific Area Travel Writers Association (PATWA) is a professional travel writers organisation established in 1998. It collaborates with the public and private sectors to encourage sustainable development and enhance the quality of travel and tourism. PATWA upholds the fundamental principles of the United Nations Educational, Scientific, and Cultural Organization (UNESCO), the United Nations (UN), and the UNWTO.