BY DEBAJYOTI CHAKRABORTY
KOLKATA, 27 AUGUST 2022
The much awaited  unfinished work of the six laning of National Highway -2 from Barwadda to Panagarh, connecting New Delhi to Kolkata will be completed by December 2023. This project once completed will further reduce travel timing between Kolkata and New Delhi by road.
Talking to The Travel and Tourism Times, S.K.Mallick,  Project Director of National Highways Authority of India (NHAI) in Durgapur has informed that a private  EPC contractor, Skyline will complete the rest of the project at a cost of Rs.400 crores.
Earlier, the private contractor IL and FS had bagged the BOT project tender but could not finish the job and had left.
" The total stretch area from Barwadda in Dhanbad of Jharkhand  to Panagarh of Burdwan West is 122.88 kilometres. Of which 43 kilometres are in Jharkhand and 79 kilometres are in Bengal. We need to finish about 15 kilometres of the unfinished work, two kilometres in Bengal and 13 kilometres in Jharkhand of the main path and also the service roads.  Construction work of Kalipahari approach way  in Asansol will begin soon,'he added.

The annual vehicular growth rate in this stretch was over 10 percent. The average speed of the stretch will be about 100 kilometres per hour once fully  completed.
The six laning work of the  Rs. 4215 crores  two stretches of NH -19 (131 km) Palsit to Dankuni section is also in full swing from Panagarh to Palsit and from Palsit to Dankuni in Hooghly. Ahmedabad based Adani Group and Mumbai based IRB Infrastructure Consortium  have bagged the tender under the Bharatmala Pariyojana.
Meanwhile, S.K.Mallick has  also apprised  about the present status of the four upcoming greenfield and  mega highway projects under the union  ministry of road transport and highways in West Bengal.
The Rs.12,000 crores greenfield Kharagpur to Moregram  via Burdwan ,234 kilometres highways is in DPR stage. Land acquisitions are going on and by the end of this year the contractor will be finalised, hopefully work will begin from June – July 2023.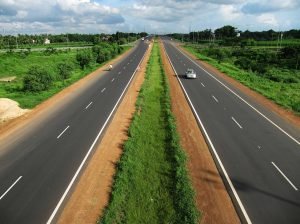 The Rs.7000 crores Belgharia – Kona elevated multi tier road will be the first of its kind in West Bengal. The 6.5 kilometres stretch will have three tiers. Land acquisition is also in its final stage and work is expected to begin later this year.
The Raxaul to Haldia Port ( Via Asansol) highway is in its initial stage.RITES have been entrusted  as consultants to conduct the survey and prepare the Detailed Project Report (DPR).
The 549 kilometres Varanasi to Kolkata expressway, will have 256 kilometres in West Bengal and will pass through  Jhaldah in Purulia district ,  Bankura, West Midnapore, Hooghly and Howrah. The land acquisition of this project is yet to start and the alignment of this project is almost on finalisation stages. This project has a proposal to build the third bridge on Hooghly River so that the vehicular traffic burden on the two existing Hooghly River bridges reduces and the travellers will have a seamless diving experience in absence of heavy traffic congestions.
The NHAI has been  planning to award about  270 kilometres stretch of greenfield highway  projects worth Rs 25,000 crore in 2022-23 in West Bengal.
Earlier, union minister of highways and road transport, Nitin Gadkari has announced that Rs.15 lakh crores will be pumped in by the National Highways Authority of India to set up a number of  greenfield mega expressway projects in West Bengal in the next few years.
Already in West Bengal Fastags have been in operation in toll plazas and the percentage of usages is already 96 percent. Now the centre is planning to replace it with Smart Road Projects with the help of GPS technologies.
Once introduced it will make Indian highways and expressways smarter and will increase the fast and seamless flow of traffic.
These mega upcoming  road infrastructure projects  in West Bengal will further improve the connectivity within the state and outside the state and neighbouring countries thus is expected to further boost the travel and tourism in the state, experts feel.
Already the West Bengal government has planned to set up motels or Patha Sathis at  the important junctions of the state highways to boost  the travel and tourism industry.
The rejuvenated national highways are not just roads that will carry vehicles from one point to another faster. They have themselves turned into vehicles of progress. They are catalysts driving the economic growth of the country. Tangible and intangible growths are evident on both sides of the highways, where the six laning work has finished already.
People's aspirations are free movement, world class traveling experience. Heavy vehicles should not be allowed to load more than their prescribed limits. "Today's brave new generation wishes to drive high priced vehicles on these roads and already the car showrooms which have mushroomed in recent years have broken past sales records," says Dipak Rudra, who owns a chain of automobile showrooms in major towns of South Bengal.