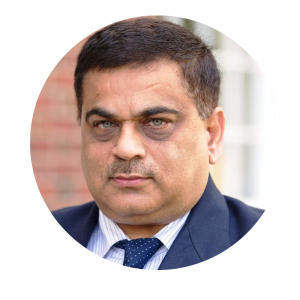 DR. RAVINDER PALL SAINI
IFS (RETIRED),
PhD. (FOREST  ENTOMOLOGY), MBA (HRM)
MEMBER, BOARD OF MANAGEMENT, FOREST RESEARCH UNIVERSITY (FRU), DEHRADUN
DEHRADUN, 6 AUGUST 2022
"We all have a responsibility to protect endangered species, both for their sake and for the sake of our own future generations," said Loretta Lynch.
The Red Panda (Ailurus fulgens), also called the lesser Panda, the red bear-cat, and the red cat-bear, is a mammal native to the Eastern Himalayas and South-Western China.  It is believed that the name Panda is coined from the Nepali word of 'Ponya' meaning bamboo or plant eating animal.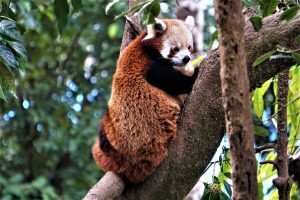 It has reddish-brown fur, a long, shaggy tail, and a waddling gait due to its shorter front legs; it is roughly the size of a domestic cat, though with a longer body and somewhat heavier. It is arboreal, feeds mainly on bamboo, but also eats eggs, birds, and insects. It is a solitary animal, mainly active from dusk to dawn, and is largely sedentary during the day.
The Red Panda has been classified as endangered by the IUCN, because its wild population is estimated at less than 10,000 mature individuals and continues to decline due to habitat loss and fragmentation, poaching, and inbreeding depression, although red pandas are protected by national laws in their range countries.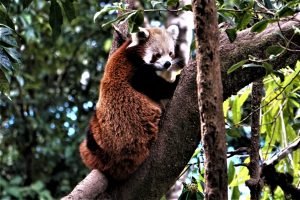 The Red Panda is the only living species of the genus Ailurus and the family Ailuridae.
Padmaja Naidu Himalayan Zoological Park, is  the only specialized Zoo in the country and is internationally recognized for its conservation breeding programmes of Red Panda along with snow leopards, Tibetan wolf and other highly endangered animal species of Eastern Himalayas. It was established in 1958 with an aim to maintain the ecological balance in the sensitive region.
The   Padmaja Naidu Himalayan Zoological Park is located  at a height of about 2,000 metres above the sea level, is one of the high-altitude zoos in the country and has been quite successful in captive breeding of red pandas.. With the birth of a couple of cubs recently , the number of red pandas at the Darjeeling zoo has increased to 27.
Red pandas are distributed in North Bengal, Sikkim and Arunachal Pradesh. There is no firm estimate available for its population size. However, earlier reports suggest 32 animals in Singalila National Park and 34 animals in Neora Valley National Park in Darjeeling district of West Bengal.
In 1994, Darjeeling Zoo started a red panda conservation breeding programme. By 2003, it had 22 red pandas and decided to free two zoo born females into the wild. Two more females were released in 2004 and a further four pandas were supposed to be released in October 2019.
THE MAIN OBJECTIVES OF THE RED PANDA   CONSERVATION PROJECT -:
It is a conservation effort aimed at planned conservation breeding and multiplication, to ensure their survival and then making efforts to restock the dwindling population of Red Panda in the Singalila National Park and the Neora Valley National Park and re-introduce the Red Pandas back in the Senchal Wildlife Sanctuary.
Making efforts to establish subsidiary Conservation Breeding Centers in suitable locations in Eastern Himalayas.
To provide opportunity to Scientists and Naturalists for study various aspects of hitherto unknown biology / behaviour of the rare species.
To arouse public consciousness about this endangered species and to cater popular and scientific information related to this species among people.
A planned conservation Breeding Project as a part of the Global Captive Breeding Master Plan was initiated in early nineties in the Zoological Park in response to the International Conservation efforts, though initiation in the form of project formulation and improvement / modification of existing housing facility was already on, since 1986.
In a significant move the authority of  Padmaja Naidu Himalayan Zoological Park in Darjeeling as planned to release  for the first time in the country twenty numbers of captively breed Red Pandas (Ailurus fulgens) to the protected  Singalila National Forest  in West Bengal over  the next five years.
Though four red pandas have been released in 2021 at Singalila National Forest , half of them have died. However, once again as part of its ambitious project the Padmaja Naidu Zoological Park has decided to release three females in October at Singalila National Forest.
A recent study by Zoological Survey of India (ZSI)  have found that India is home to both the (sub) species — Himalayan red panda (Ailurus fulgens) and the Chinese red panda (Ailurus styani) and the Siang river in Arunachal Pradesh splits the two phylogenetic species.