BY TTT NEWS NETWORK
DURGAPUR, 16 MARCH 2023:
Tourism used to contribute about 20 percent of the total GDP of Thailand and during the global covid -19  pandemic  outbreak period the GDP sinked to 6 percent, but the Tourism in Thailand bounced back due to adaptive and innovative methods undertaken in the post pandemic period, said consul geneeral of Royal Thgai Consulate, Ms. Acharapan Yavaprapas.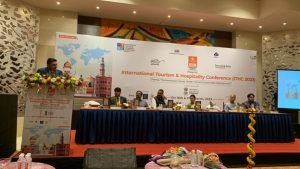 She was speaking at the International Tourism & Hospitality Conference 2023 organised by the NSHM Institute of Hotel & Tourism Management, Durgapur at ITC Puspanjali Hotel today.
Ms. Yavaprapas said that the first innovative way undertaken was the Phuket Sandbox Programmee in July, there after series of new ways have been undertaken and focus has been on responsible and sustaianable tourism.
Mr. Ramkrishna Jaiswal, consul of Republic of Madives informed that how a island with over five lakhs population attracts more number of tourists throughout the year.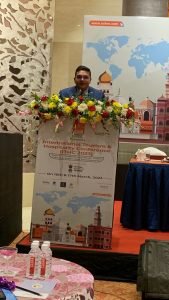 It is no mean achievement to win best tourism awards for three consecutive years. Highlighting the sunny side of the island country he has urged the students to accept defeats and if they want to be sucessfull in their lives they have to learn from their failures and also described about what is happiness.
Professor Subhas Chandra Jha of Geography Department of Visva Bharati University (VBU) said that earlier tourism was termed as a luxurious event but nowadys it has become an essential part of our lives.
He has urged the students to adopt technology and highlited the role of Geo Spatal Technology in the modern field of tourism. " The future of tourism will be from maps to aps,"he added.
Professor  Sharda Ghosh, Principal of  Institute of Hotel Management Catering Technology & Applied Nutrition , Bhuvaneswar highlighted about the benefits of the new education policy 2020.
"  Students of twenty one IHM  colleges under central government  will get degrees of three years and four years from JNU, after a recent  MoU. Students need to focus on business aspects from operational aspects," she said.
She has  also highlighted the rural or eco tourism in Odisha and said that how it has become a game changer in the rural economy and described the charm of the rustic world with specific reference to the Natu Natu song winning the academy awards.
Quoting Mahatma Gandhi she said that true India lives in its villages.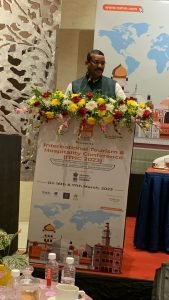 Dr. Nitin Shankar Nagrale, CEO India and Emerging Markets of Quality NZ Imports Private Limited has urged the students of the tourism and hospitality management not to stick to the four core competencies.
"You only see the bright part of the industry , but there are also hard works behind it," he advised the students. He also stressed on increasing the networking and said that networking will actually be your networth one day.
" The conference aims to bring togethervcontemporary issues , global trends and sustainable development in tourism and hospitality to offer insights for scholars and set strategic directions," said Mr. Cecil Anthony, Chief Mentor, NSHM Knowledge Campus, Durgapur.
The hotel and hospitality industry is poised to grow in leaps and bounds and has opened doors for international players, said Dr. Milind, Principal of NIHTM, Durgapur. He has also thanked the union  ministry of tourism for  helping to make  this two day international conference sucessfull.
Professor Prasenjit Ghosh gave the vote of thanks. The  conference was conducted by Professor Dipnath Mukherjee, both of NSHM Durgapur.
Mr. Arnab Roy, Co Founder & Director of NSHM Knowledge Campus in Durgapur and Kolkata was also present.