(Taking place from 4-6 February, 2023, the exciting event will offer plenty of activities showcasing the world-famous Thai martial art form)
BY TTT NEWS NETOWRK
KOLKATA, 3 JANUARY 2023
The Tourism Authority of Thailand (TAT) is pleased to announce that the "Amazing MuayThai Festival 2023" will be held at Rajabhat Park in the famous seaside resort of Hua Hin, Prachuap Khiri Khan province from  4 to 6  th February, 2023.
TAT is organising this exciting event together with the Royal Thai Army, the Ministry of Culture, Sports Authority of Thailand, Thailand Convention and Exhibition Bureau, the province of Prachuap Khiri Khan, and private sector partners.
The Amazing MuayThai Festival aims to promote cultural tourism and is in line with the Thai government's policy to promote Thailand's soft-power foundations, which include Food, Film, Fashion, Fight, and Festival.
Mr. Apichai Chatchalermkit, TAT Deputy Governor of Tourism Products and Business, said "In addition to promoting Muay Thai as a national heritage and a world-famous element of Thai culture, the Amazing MuayThai Festival is also an opportunity to create economic value and generate income for Thailand through sports tourism."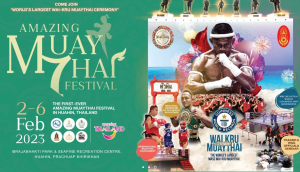 The festival's date of 4to 6 February coincides with 'National Muay Thai Day' which falls on 6 February every year, to commemorate the day Somdej Phrasanphet – commonly known as Phra Chao Suea – ascended the throne. His Majesty was known for his mastery of Muay Thai, with his techniques still being taught today.
Among the activities on the program of the festival are a Wai Kru ceremony with 5,000 participants to set a new Guinness World Record on 6 February. The Wai Kru ceremony is a ritual performed by fighters before a fight.
There will also be a Muay Thai exhibition, Muay Thai industry promotional activities, and sales of merchandise and local cuisine to enjoy.
The nearby Sea Pine Beach area will be designated for Muay Thai training, Muay Thai practice with Muay Thai superstars, an international amateur Muay Thai tournament, and Muay Thai World Championship showdowns.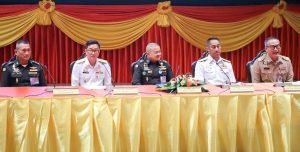 Hua Hin Municipality will also be holding a Muay Thai festival and "Street Fight" competition.
Muay Thai, also known as Thai boxing, is a unique Thai martial art form that combines grace and flow and utilises the hands, elbows, knees and shins as weapons. Thus it is also sometimes referred to as the 'art of eight limbs'. Popular worldwide, it can trace its history back to at least the 16th Century.