BY DEBAJYOTI CHAKRABORTY
KOZHIKODE, 9 AUGUST 2022
Kozhikode district will play host to the 8 th edition of the International Kayaking Competition-Malabar River Festival at Thusharagiri  which will be held after a gap of two years due to the covid -19 pandemic outbreak in Gods Own Country.
A meeting chaired by Tourism Minister  of Kerala, P. A. Mohamed Riyas has  recently decided to hold the eighth edition of the festival from August 12 to 14. The kayaking festival, which was started in 2013, has grown into a major tourism attraction event in Kozhikode district over seven seasons, with kayakers from various parts of the world participating in it.
The festival was able to project Chalipuzha, Chaliyar and Iruvazhinji rivers in the district as world-class destinations for whitewater kayaking. The event is held in various categories including slalom, boater cross, downriver, and super final extreme races. It used to be the only whitewater kayaking championship in South India for a long time. The much awaited Malabar River Festival, South India's first river based competition is all set to make a big splash this year. The event is organised by Kerala Adventure Tourism Promotion Society and District Tourism Promotion Council  with the technical support of Indian Kayaking and  Canoeing Association (IKCA) and the grama panchayats of Kodenchery and Thiruvambady . The International Kayaking Competition at Thusharagiri in Kozhikode from 12 to 14 August. The River Festival hosted at the Chalipuza and  Iruvanjippuzha is a great booster to  water sports and adventure tourism in Kerala.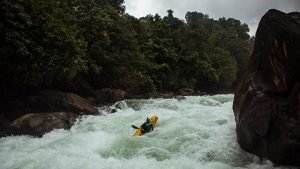 The top scorers in the male and female categories are given the titles of Rapid Raja and Rapid Rani respectively. About 200 kayakers from all over the country and another 100 from abroad are likely to participate, the organisers said.

PRIZE MONEY :  The events offer total prize money of Rs 9,45,000 up for grabs for expert Kayakers in India and around the globe in a truly world-class water sports adventure!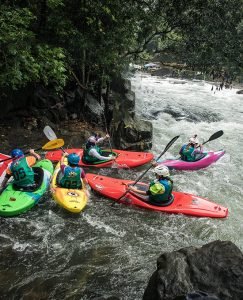 The memento and certificate are issued by Kerala Adventure Tourism Promotion Society (KATPS), and Indian Kayaking and Canoeing Association (IKCA)
Event Schedule
Day 1 (August 12)
Venue
0800 – 0900 hrs – Opening Ceremony Pulikkayam
0900 – 1300 hrs – Slalom Qualifications – Pro/Open Pulikkayam
1300 – 1400 hrs Lunch Pulikkayam
1400 – 1800 hrs Slalom Finals – Pro / Open Pulikkayam
________________________________
Day 2 (August 13)
0900 – 1300 hrs – Slalom Qualifications – Intermediate – Pulikkayam
1300 – 1400 hrs – Lunch break – Pulikkayam
1400 – 1800 hrs – BoaterX Qualifications & finals – Pulikkayam
________________________________
Day 3 (August 14)
0900 – 1300 hrs – BoaterX Intermediate Finals – Pulikkayam
1300 – 1400 hrs – Lunch – Pulloorampara
1400 – 1700 hrs – Downriver Time trail (pro) – Pulloorampara
1700 – 1800 hrs – Closing ceremony and prize distribution – Ilanthukadavu
The rules are
1.      Only the top 32 from slalom qualify for the boaterX
2.      Top 16 from slalom & boaterX qualify for downriver TT
3.      Top 5 from all three events – slalom, boaterX, downriver are eligible for the overall prize
TO CONTACT WHOM:
Kerala Adventure Tourism Promotion Society T.C. 26/849 (1), University Women's Hostel Junction, Vazhuthacaud, Thiruvananthapuram – 695014, Kerala, India