TTT NEWS SERVICE
DURGAPUR, 9 AUGUST 2022
The Peerless Inn , Durgapur has launched Raksha Bandhan Special to celebrate the bond of love between the brothers and the sisters at the Food Court.
There will be 4 Brownie Gift Boxes with a rakhi costing Rs.249. Special veg hamper ( vegetable patties, vegetable cutlet, brownie, sandesh)  with a rakhi  at cost of Rs.249.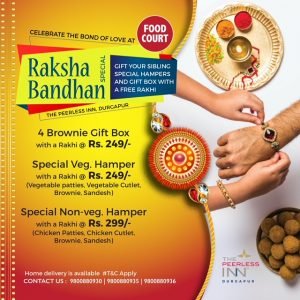 Special non veg hamper  ( Chicken patties, chicken cutlet, brownie, sandesh) along with a rakhi costing Rs.299.
The slogan is Gift your sibling special hampers  and gift box with a free rakhi.
Home delivery is also available. Customers can contact : 980088080930 / 9800880953/ 9800880936.
The friendship day special offer is also available from 7 to 14 August at The Roor, Peerless Inn. There is a 20 percent discount on buffet dinner and buy 2 get one free on beverages.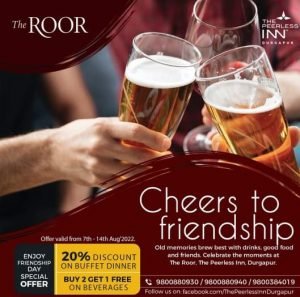 Old Memories brew best with drinks, good food and friends . Celebrate the moments at The Roor – 'Cheers to Friendship'.
Dining options at The Peerless Inn Durgapur.consists of a vivid platter of culinary delicacies ranging from ethnic to continental dishes.
Hotel Location:
Location is a major advantage to this property, as it is located centrally ( City Centre)  in Durgapur, which makes it easily accessible from the highway, the railway station and the nearby airport.