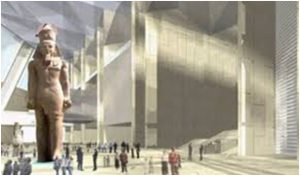 TTT NEWS NETWORK
KOLKATA, 27 AUGUST 2023:
Minister of Tourism and Antiquities of Egypt, Mr. Ahmed Eissa said a few days ago that the  specialists have finished placing 70 percent of the major artifacts and antiquities at the main halls of the Grand Egy ptian Museum (GEM).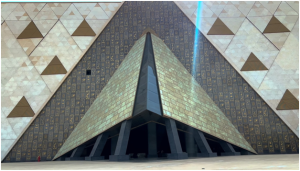 The announcement was made during a video conference meeting, led by Tourism and Antiquities Minister, to follow up on the progress of construction works at the GEM, the installation of artifacts of various sizes, and the enhancement of visitor services.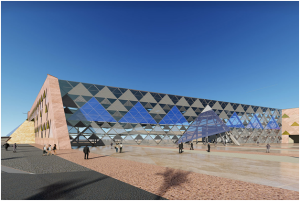 The participants in the meeting also reviewed the museum's strategy to install 160 artifacts daily in 159 showcases across the main halls, according to Eissa.
Egypt hopes that the inauguration of the Grand Egyptian Museum will further boost the tourism sector in the country.
ABOUT:
The Grand Egyptian Museum (GEM) also known as the Giza Museum, is an archaeological museum under construction in Giza, Egypt, about two kilometres from the Giza pyramid complex. The Museum will host over  one lakhs  artifacts from ancient Egyptian civilization, including the complete Tutankhamun collection, and many pieces will be displayed for the first time.
With 872,000  square feet  of floor space, it is the world's biggest museum. It was built as part of a new master plan for the Giza Plateau, Giza 2030.
The GEM will also host permanent exhibition galleries, temporary exhibitions, special exhibitions, children museum, and virtual and large format screens with a total floor area of 32,000  square metre .
The  Grand Egyptian Museum  is a  joint venture project  of the Belgian BESIX Group and the Egyptian Orascom Construction.