BY DEBAJYOTI CHAKRABORTY
KOLKATA, 2 OCTOBER
This year also the West Bengal Comprehensive Area Development Corporation (CADC), which is under the department of panchayat has come ahead to serve its online puja bhog thalis to the people of Kolkata.
Talking to The Travel and Tourism Times, Soumyajit Das, administrative secretary of CADC said that this year the online thalis will be served under its recently launched brand Mrittika.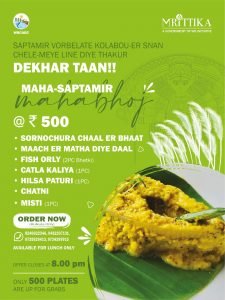 " So far during every festive season our thalis have been a hit and we have served thalis during Durga Puja, Kali Puja, Lakhsmi Puja, Bhai Dooj, Saraswati Puja, Eid and even during the christmas. Our online thalis have already made a good market and all the products are farm fresh and organic and cultivated in our own farms," says Soumyajit Das.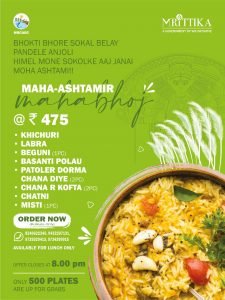 Swagata Roy, Marketing Manager of CADC said that  from sasthi to bijoya dashami one plate of Chicken biryani along with chicken chap will cost Rs.250. The order closes at 8 PM and this thalis are for dinner only.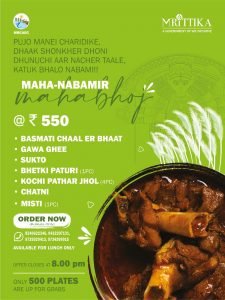 "On maha saptami we will be serving thalis each costing Rs.500. and each thali will consist of sornochura rice, macher matha diye dal, fish orly, katla kalia, chutney and misti. This will be available for lunch only," Swagata Roy added.
On maha ashtami the thali will cost Rs.475 and will consist of khichuri, labra, beguni, basanti pulao, potoler dorma chana diye, chanar kofta, chatni and misti. This is also available for lunch only and order  closes at 8. PM the previous day.
For maha nabami mohabhog it will cost Rs.550 per thali and will consist of basmati rice, gawa ghee, sukto, bhetki paturi, kochi pathar jhol, chatni and misti. This is also available for lunch only.
On Bijoya Dasahami the thalki will cost Rs.375 and will consist of sada pulao, navratan korma, jhur jhure aloo bhaja  along with misti mela –  Ranaghat er pantua, Shaktigarh er lyngcha, Kalnar rosogolla, Nadiar nikuti, Paschim Medinipurer Balushahi, payesh from the house of SHG women. This is also available for lunch only.
All the thalis are cooked in the headquarters of CADC at Mrittika Bhawan in Salt lake by the specially trained Self Help Group Women.
Fishes, vegetables, fruits, chicken, goat, and spices all are organically cultivated in the farms of CADC spread over throughout the state.
CADC is trying to revive the production of black Bengal Goat of Bankura  which is very famous for kochi pathar jhol.
The thalis can be booked online through whatsapp numbers : 8240622346/ 94342207131/ 9735929413/ 9734399915.
The staff of CADC will serve the thalis at the doorsteps. For those people who can not roam out to the puja pandals but wish to have the Durga Puja special thalis, the CADC online thali special  offer has always been a hit to them.