BY TTT NEWS NETWORK
KOLKATA, 9 JANUARY 2023
Chief Minister Mamata Banerjee said that West Bengal is not only the gateway of the North Eastern India, but also of the neighbouring countries like Bhutan, Nepal, China, Myanmar, Thailand and Bangladesh and said that there is tremendous scope in industry and tourism in the state and has urged the foreign delegates to visit and invest  here.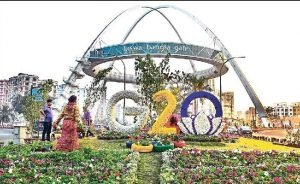 She was speaking on the occasion of the inauguration of the first G20 meeting at Biswa Bangla Convention Centre in Rajarhat in  Kolkata today. " We believe in giving a humane face to development and the state's GDP has increased four folds since our government took charge in 2011. Many of our social development works have received accolodaes globally and even Eco park and Mother's Wax Museum are drawing a lot of attractions in Rajarhat New town area ,"she addressed the gathering.
The City of Joy hosts the G20 Meetings after Uadipur, Mumbai and Bengaluru.
First Meeting of Global Partnership for Financial Working Group of G20 will be held at Kolkata from 9 to 11 January 2023.
Incidentally, India is holding the  presidency of the G20 from 1 December  2022 to 30  November 2023.
The  G 20 meeting will focus on the principles of digital financial inclusion, remittance costs and SME finance availability.
The three-day  G- 20 meeting will  also have  symposiums, exhibitions and a domestic outreach programme on digital financial literacy involving over 1,800 students from various schools of the state.
Twelve international speakers will be attending the three day  G20 meeting, including senior officials from the World Bank, Monetary Authority of Singapore, France and Estonia.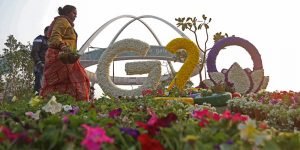 Unique Identity Authority of India (UIDAI) CEO Saurabh Garg and National Payments Corporation of India (NPCI) MD and CEO Dilip Asbe are among those scheduled to address the various technical  sessions.
·        Cultural programmes, sightseeing and dinner on river cruise have been planned for the delegates as part of the scheduled programme during the three day event.
·        Popular foods including the street foods are offered to the delegates participating in the G20 meeting in Rajarhat and the Rajarhat – Newtown area has been  beautifully decorated with posters, banners and other art  and wall graffiti welcoming the delegates. Pictures of the city's iconic tram, yellow taxis, Howrah Bridge, Victoria Memorial etc have been displayed.
·         The delegates have been staying in a five star hotel in Rajarhat.
Rajarhat – Newtown is one of the cleanest and greenest and cycle friendly cities in the country. A solar dome has also come up recently and the Harinalaya, a mini zoo has become an added attraction making it the tourism hub of the state.
A joyful beginning to 2023 for #G20 in Kolkata!

A productive start of the 1st Meeting for the Global Partnership for Financial Inclusion has set the tone for a promising year ahead for #G20India!
@MamataOfficial @TourismBengal @FinMinIndia @RBI

🎥Day 1 Highlights : pic.twitter.com/CHPsRxby2x

— G20 India (@g20org) January 9, 2023