BY TTT NEWS NETWORK
 ASANSOL, 11 JANUARY 2023
It's early January and as the murcery dips further its festival period in the oldest industrial town in the country. Law, judiciary and  labour minister, Moloy Ghatak has inaugurated on Sunday, the second edition of the much hyped  India International Grand Trade Fair in Asansol is jointly organised by the Asansol Chamber of Commerce (ACC) and CCG Marketing Services , undoubtedly  the most popular and biggest annual carnival  in the city at present .
" I am really happy to know that last year's India International Grand Trade Fair in Asansol was a huge success and hope that this year also it will break its past record. Asansol is amongst one of the fastest growing cities in the world and the West Bengal government has made it the district headquarters thus increasing its importance further," Mr.  Moloy Ghatak said in his inaugural speech.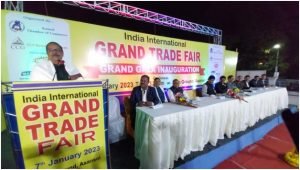 Mr. Sambhu Nath Jha, secretary of Asansol Chamber Of commerce said that seven countries and 17 states are participating in this eleven days fair.
" All the spaces have been sold out and there have been tremendous enthusiam have been generated  amongst the people of Asansol and nearby areas for this grand trade fair. The dark days of the covid -19 pandemic are over and people are enjoying this carnival in a pandemic free world," said Mr. Sambhu Nath Jha.
 Mr.  Naresh Agarwal, President of Asansol Chgamber of Commerce said that almost eighty percent of the stalls from the previous trade fair has returned back and this is a very positive sign that they have got business and people of Asansol are buying.
" Earlier there was no such grand trade fair with international look in Asansol  and people are visiting in high numbers after office hours to spend some quality time here in the evening. The fair remains open from 1 PM to 9 PM,"added Mr. Naresh Agarwal.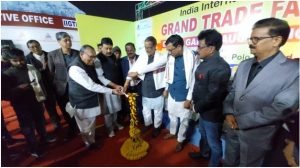 IIGTF is one of the biggest trade fair of Eastern India and attracts huge number of visitors. Many foreign countries, corporate bodies, Government Departments & PSUs, traders from all over the world make this fair truly international.
The fair is conducted in an international ambiance with air conditioned pavilions dedicated to different product categories, with the whole area carpeted to make it dust free, A.C. conference  & meeting rooms etc. Moreover, a highly effective and  elaborate advertisement campaign is taken up to attract both B2B and B2C customers.
Asansol Chamber of Commerce one of the oldest chamber in this Industrial belt. The Chamber is associated with many Nobel Projects and this time also ACC is Organising this event along with CCG Marketing & Services to promote Development of ECONOMY through Trade and  Industry.
CCG Marketing and  Services is a leading and well known organizer of Trade Fairs and Exhibitions in Eastern India and has ability to organize such International standard Exhibitions in different cities across Eastern India.
Altogether, IIGTF offers a very useful platform for manufacturers, service providers, traders and micro entrepreneurs alike to showcase and/or sell their products.
International Countries Participation from :
THAILAND , BANGLADESH , TURKEY , MALASIA , DUBAI , AFGHANISTAN etc.
Participation (Exhibitors) from different states :
Maharashtra , UP , Bihar , Delhi , Kashmir , Karnataka , Jharkhand , Himachal , Punjab , Rajasthan , Gujrat etc .