BY TTT NEWS NETWORK
KOLKATA, 8 MARCH 2023:
The Darjeeling Himalayan Railways have  increased four more joyrides in this tourism season from 1 March.
These additional toy trains will  run from 1 March to 30 June.
About  eight joy rides used to  shuttle between Darjeeling and Ghoom. With the addition of four more joy rides, the number has now increased to twelve.
These special four joy rides will have three first class chair cars, two coaches with 30 seater and one coach with 29 seater.
North eastern Frontier Railways public relations officer, Sabyasachi Dey has informed that for the benefit of the tourists four more joy rides have been running.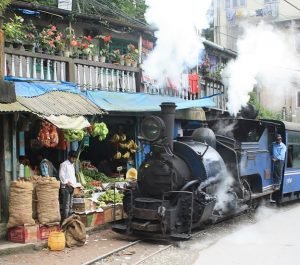 ABOUT :
The Darjeeling Himalayan Railway, also known as the DHR or the Toy Train, is a 610 mm (2 ft) gauge railway that runs between New Jalpaiguri and Darjeeling in the Indian state of West Bengal.[1] Built between 1879 and 1881, it is about 88 km (55 mi) long. It climbs from about 100 m (330 ft) above sea level at New Jalpaiguri to about 2,200 m (7,200 ft) at Darjeeling, using six zig zags and five loops to gain altitude. Six diesel locomotives handle most of the scheduled service, with daily tourist trains from Darjeeling to Ghum – India's highest railway station – and the steam-hauled Red Panda service from Darjeeling to Kurseong. Steam-enthusiast specials are hauled by vintage British-built B-Class steam locomotives. The railway's headquarters are at Kurseong.
On 5 December 1999, UNESCO declared the DHR a World Heritage Site. Two more railway lines were later added, and the site became known as one of the mountain railways of India.
Film-
Several films have depicted the  Darjeeling Himalayan Railway toy train –
Protagonist Rajesh Khanna sings "Mere Sapno Ki Rani" to heroine Sharmila Tagore, who is on the train, in the 1969 film Aradhana. Other films which include the railway are Barfi!, Parineeta and Raju Ban Gaya Gentleman. An anthropomorphized version of one of the B-Class locomotives appears briefly in Disney's Planes (2013) when an airplane flies through a tunnel and nearly collides with the train.
Television-
The BBC made a series of three documentaries on the mountain railways of India, which was first broadcast in February 2010. The first episode covers the Darjeeling Himalayan Railway, the second the Nilgiri Mountain Railway, and the third the Kalka–Shimla Railway. The documentaries, directed by Tarun Bhartiya, Hugo Smith and Nick Mattingly, were produced by Gerry Troyna. The documentary on Darjeeling Himalayan Railway was directed by Tarun Bhartiya. The series won the UK Royal Television Society Award in June 2010.
The union railway ministry has plans to replace the diesel engines with hydrogen fueled trains by the end of this year which will reduce the carbon footprint further.