BY TTT NEWS NETWORK
KOLKATA, 22 DECEMBER 2022
As Indian Prime Minister Narendra Modi urges citizens to wear face masks and suggests booster vaccine doses for senior citizens at a high level meeting in New Delhi today on covid new variant update, Karnataka has made it mandatory to wear face masks even indoors as cases rise.
With the festive season of Christmas and New Year arriving and four cases of Omicron sub variants found in India, the PM held a meeting today as new cases rose in China. At the high level virtual meeting
home minister Amit Shah, health minister Mansukh Mandaviya and other top officials of health ministry and Niti Ayog were present.
The Karnataka government on Thursday decided to conduct mandatory testing of Influenza Like Illness (ILI) and Severe Acute Respiratory Illness (SARI). The two percent random checking on international passengers arriving in the airport will continue till further orders.
Gujarat Health Minister Rushikesh Patel on Thursday said the COVID-19 situation in the state was under control and there was no active case of the BF.7 sub-variant of Omicron, which is believed to be driving the surge in cases in China. Delhi chief minister Arvind Kejriwal has also informed that the sub variant has not been found in the national capital till date.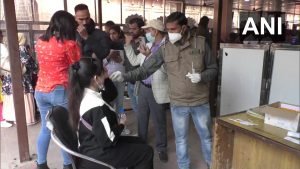 Traders associations of New Delhi have urged the shop owners to wear face masks and follow covid protocols.
West Bengal CM Mamata Banerjee said that a high level committee has already been formed and the state government is keeping a tab on the covid -19 situation in the state.
Himachal Pradesh government is also giving precautionary doses to people who are 18 years old and above.
Today all MPs wore face masks in the parliament.
In Agra in Uttar Pradesh covid tests are being conducted upon tourists who are coming to visit the Taj Mahal.
Health minister of Kerala, Veena Goerge said that 100 percent vaccination in the  state has already been achieved and there is no need to panic.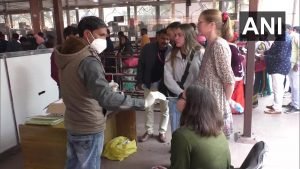 Already the World Health Organisation (WHO) has expressed concern as cases surge in China. There have been  645 numbers of  new death cases ( excluding China)  reported today in the world according to
worldometers  in South Korea -62, Japan -339, Russia -54, Taiwan-  41, Australia -22, Philippines -30, Indonesia -22, Hong Kong -34.