BY TTT NEWS SERVICE
KOLKATA, 20 NOVEMBER 2022
From 28 November all international departures will be shifted to the main terminal from the Interim International Departure Terminal (IIDT) of Rajiv Gandhi International Airport (RGIA)  in Shamshabad of Hyderabad in Telangana.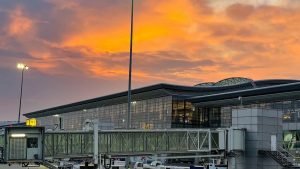 Already the RGIA has provided a helpline number – 040-66546370 for the passengers in case of any confusions for international arrivals and departures.

Though there were departure terminals for domestic and international arrivals and departures, but due to heavy rush a temporary terminal was set up on the right side of the RGIA for international passengers.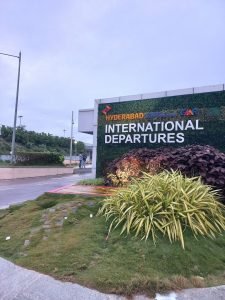 All works including check ins, security, immigrations and customs have been conducted at that terminal. But from 28 November everything will be shifted to the  main terminal.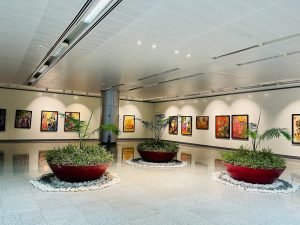 Major expansion work is undergoing at the Rajiv Gandhi International Airport in Hyderabad. The present annual passenger handling  capacity is 2.1 crore, which will be upgraded to 3.4 crores passengers handling capacity  per annum after expansion.
Situated about 24 kilometres south of Hyderabad, RGIA is the largest ( built upon an area of 5500 acres)  airport of India by area and was inaugurated in 2008.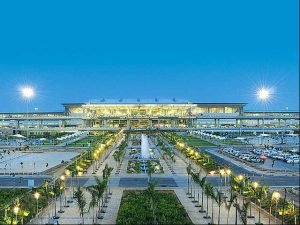 RGIA is India's first greenfield airport built on a PPP model. It is owned by GMR Hyderabad International Airport Limited (GHIAL), a public – private consortium. GMR holds 63 %, Government of Telangana 13 %, Airports Authority of India (AAI) 13% and Malaysia Airport Holdings 11% stake in the consortium.
The airport serves as a hub for Alliance Air ( India), Blue Dart Aviation,  Spicejet and Indigo. It is a focus city for Air India.
Lufthansa Cargo has recently resumed its scheduled freighter services from GMR International Hyderabad Airport. Lufthansa Cargo will be operating a Boeing 777 freighter connecting Frankfurt – Mumbai- Hyderabad – Frankfurt. Lufthansa Cargo resumes freighter operations after more than a year.
In addition to Lufthansa Cargo, SpiceXpress, the cargo wing of SpiceJet has also recently started freighter service from Hyderabad to Hanoi, which will help cargo flow towards the growing market in South East Asia.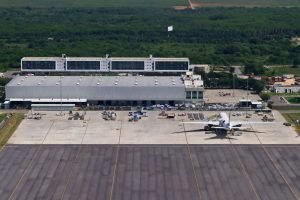 GMR Hyderabad Airport Cargo serves multiple multinational companies across pharma, perishable, engineering, automobile, aerospace and leather industries. Apart from all major cargo hubs in India, international destinations like Frankfurt, Istanbul, Dubai, Doha and Hong Kong are also well connected from the Hyderabad International Airport.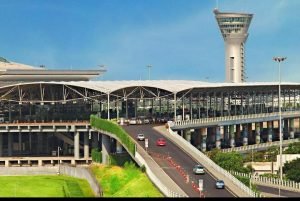 Hyderabad Airport has a modern, world class air cargo terminal, with expertise in handling temperature controlled Pharma consignments. The facility is well equipped with all supporting infrastructure and equipment including advanced security screening and cargo handling systems.