BY TTT NEWS NETWORK
HYDERABAD, 29 NOVEMBER 2022
Chief minister of Telangana, K.Chandrasekhar Rao will lay the foundation stone of the Rs. 6250 crores Hyderabad Airport Express Metro on 9 December, announced municipal administration and urban development minister, K.T.Rama Rao.
In a tweet, K.T.Rama Rao has said that the project starting a mindspace junction to Rajiv Gandhi International Airport at Shamshabad will be 31 kilometre long.
The Hyderabad Airport Express Metro project is a Telangana state government funded project and will be completed within three years.
" We have submitted DPR and are in discussions with the government of India for additional 31 kilometres city metro expansion, BHEL to Lakdikapul -26 kilometres and  Nagole to LB Nagar -5 kilometres," the tweet added.
" There is a dedicated Metro Rail Right of Way (RoW) in the Outer Ring Road (ORR) and the Airport Express Metro Corridor will be taken to Shamshabad International Airport through this," according to Mr. N.V.S. Reddy, Managing Director of Hyderabad Metro Rail and Hyderabad Airport Metro Limited.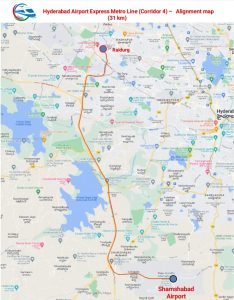 There will be tangible and intangible growth  along this stretch as several multi national and national companies have planned to set hupe huge campuses.
Number of high rise buildings including both residential and commercial with world class facilities are also being set up in this corridor area.
CM of Telangana , K.Chandrasekhar Rao wants to prome Hyderabad as a world class destination for both tourism and investment purposes.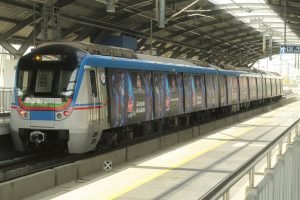 All the top global cities have metro rail link to their international airport and Hyderabad is also moving in that direction .
Hyderabad Metro is the largest public-private partnership in metro rail across the world and, at present, the Hyderabad Metro Rail Ltd (HMRL) and the L&T Metro Rail Hyderabad Ltd (LTMRHL) operate three corridors covering 69 km.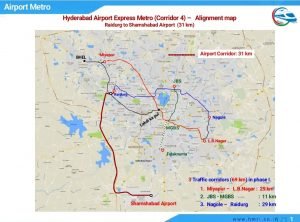 Barring a 2.5 km stretch near the airport, the corridor is slated to be elevated, like in the rest of the city.
The Hyderabad Metro is a rapid transit system, serving the city of Hyderabad in  Telangana of  India. It is the second longest operational metro network in India after the Delhi Metro (285 stations) with 57 stations and the lines are arranged in a secant model. It is funded by a public–private partnership (PPP), with the state government holding a minority equity stake. A special purpose vehicle company, L&T Metro Rail Hyderabad Ltd (L&TMRHL), was established by the construction company L&T to develop the Hyderabad metro rail project. Hyderabad Metro is the world's largest elevated Metro Rail system based on DBFOT basis (Design, Built, Finance, Operate and Transfer).
A 30-kilometre  stretch from Miyapur to Nagole, with 24 stations, was inaugurated on 28 November 2017 by Prime Minister Narendra Modi. This was the longest rapid transit metro line opened in one go in India.