BY TTT NEWS NETWORK
MUMBAI, 24 January 2023:
Indian Hotels Company (IHCL), India's largest hospitality company, today announced the signing of its first hotel in Indore, Madhya Pradesh under the Vivanta brand. The Greenfield project is slated to open in 2026.
Ms. Suma Venkatesh, Executive Vice President – Real Estate & Development, IHCL said, "This signing is in line with IHCL's vision of expanding its presence to key markets in the country. Indore is the leading   commercial hub in the state of Madhya Pradesh. We are delighted to partner with Evitamin Business Consulting Pvt Ltd for a Vivanta hotel in the city."
The 115 key hotel is strategically situated a short driving distance from the airport and industrial areas with presence of large automotive, pharmaceutical and textile companies. Other facilities at the hotel will include an all-day diner, a bar, swimming pool, fitness centre and a spa. It will also offer over 550 sq. mt. of banqueting space including meeting rooms.
Mr. Rajendra Daga, Promoter, Evitamin Business Consulting Pvt Ltd,said, "We are delighted to bring the Vivanta brand to Indore in partnership with IHCL. We look forward to delivering a world class hospitality experience to the guests visiting the city."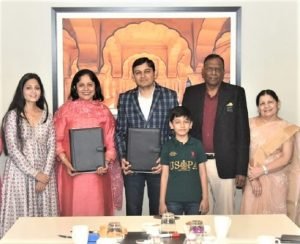 Indore is the largest city in the state of Madhya Pradesh as well as its financial capital. It is also one of the education hubs in the country and a gateway to Ujjain, a major pilgrim destination.
With the addition of this hotel, IHCL will have eight hotels across Taj, Vivanta and Ginger brands in the state of Madhya Pradesh including one under development.
About Evitamin Business Consulting Pvt Ltd:
Evitamin is an e-commerce, web development and digital marketing service provider. It is a start-up and provides a one stop solution for brands associating with Amazon and Flipkart and other e-commerce merchants. It provides services such as cataloguing, advertising, ecommerce portal management, enhanced brand content, digital marketing, website development, SEO and graphic designing. They are authorized service provider of Amazon, Flipkart, Shopify,Jiomart. The company has over 300+ employees and was co-founded by Mr. Vaibhav Daga (B.E., PGDM – IIM Kozhikode) and Ruchi Daga (MCA) in 2015.
About The Indian Hotels Company Limited :
The Indian Hotels Company Limited (IHCL) and its subsidiaries bring together a group of brands and businesses that offer a fusion of warm Indian hospitality and world-class service. These include Taj – the iconic brand for the most discerning travellers and ranked as the World's Strongest Hotel Brand and India's Strongest Brand as per Brand Finance Hotels 50 Report 2022 and India 100 Report 2022, respectively; SeleQtions, a named collection of hotels; Vivanta, sophisticated upscale hotels; and Ginger, which is revolutionising the lean luxe segment.
Incorporated by the founder of the Tata Group, Jamsetji Tata, the Company opened its first hotel – The Taj Mahal Palace, in Bombay in 1903. IHCL has a portfolio of 252 hotels including 67 under development globally across 4 continents, 11 countries and in over 100 locations. The Indian Hotels Company Limited (IHCL) is India's largest hospitality company by market capitalization. It is primarily listed on the BSE and NSE.