BY  DEBAJYOTI CHAKRABORTY
KOCHI, 25 NOVEMBER 2022
Nestled far away from the chaos of urban life, there exists a quaint hamlet in the heart of Kottayam district. All it offers those who stumble upon it are a soothing experience of village life amidst endless paddy fields. Its massive stretches of backwaters and intrinsic natural beauty are slowly attracting tourists who seek a rendezvous wholly detached from their routine. Malarickal or Malarikkal is a jewel that people in Kerala are only slowly awakening to themselves.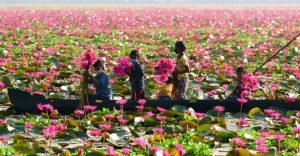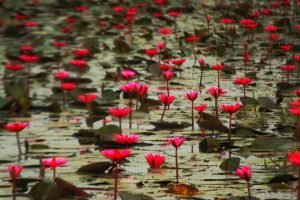 It isn't just the emerald of its backwaters that awaits you here, as Malarickal lures you in with breathtaking shades of pink as well. The water lilies (Nymphaea Stellata or ambal in local parlance) greet the terrain during the end of the monsoon rains, which usually occurs annually between September and October. A carpet of pleasant pink envelops the entire region in a breathtaking formation that is hard to explain with mere words. They spread out over 600 acres of land, and locals advise that the best time to witness this phenomenon is morning and evening. These visuals alone draw in bigger crowds each year, as words spread of this natural wonder.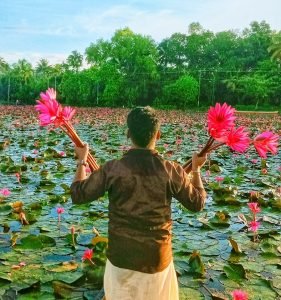 To begin the day with the water lilies, and end it with a glorious sun setting over the countryside is nothing short of a divine endowment. The District Tourism Promotion Council (DTPC), Kottayam, will soon add village tourism options like boating and responsible tourism activities.  These will undoubtedly further enhance the visitor experience at Malarickal.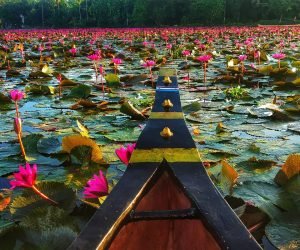 About 80,000 tourists visited Malarickal and was the most visited toursim destination in 2019. From 5 AM to 10 AM is the best time to visit and toursist can also take a boat ride. There are more than 150 boats for ride.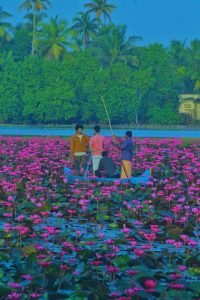 LOCAL ECONOMY –
Fishing, agriculture and tourism are the major economic activities Fishing, agriculture and  off course tourism are the major economic activities Malarikkal's perfectly balanced tropical climate is very conducive to cultivation. The place has expanses of mangrove forests, paddy fields and coconut groves. Fruits like Banana, Mango, Jackfruit, Ambazhanga, Puli (Tamarind), Chaambenga, Peraycka (Guava), Aathaycka and Pineapple grow here. Also, cocoa and coffee, chena(yam) and chembu (colocasia), grow well and were cultivated under the coconut trees. This rich agricultural environment is mainly irrigated using interspersed waterways and canals of the Meenachil river. The smaller canals are often lined by hibiscus plants which lean partly over the canals to form a green canopy, from which hang the lovely hibiscus flowers. The village has an estimated 700 – 800 acres of paddy fields which turns into a  pink carpet for almost two months.
Nearest tourist attractions –
·        Thiruvarppu
·        Kumarakom
·        Chengalam South
·        Vaikom
·        Kottayam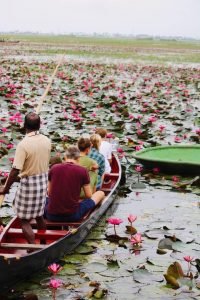 Kumarakom, the most  popular backwater destination in Kerala, is located about 13 kms away from Malarickal.
Getting there –
Nearest railway station: Kottayam, around 9 km
Nearest airport: Cochin International Airport, around 85 km
By road:KSRTC(6.9 kilometres) Buses and taxis are easily available at all times of the day from Kottayam.