BY SHAILENDRA JAYAL
FORMER CHIEF GENERAL MANAGER (CGM)
STEEL AUTHORITY OF INDIA LIMITED (SAIL)
DURGAPUR, 22 MARCH 2023:
It was during the Covid time in December, 2020 when we decided to visit Kashmir and the reason
was that to enjoy the beauty of Kashmir during snowfall. Though I had visited Kashmir two times
earlier, once during September, 2008 for a project in Pulwama, when we had to stay in Srinagar for
13 days and do up and down to Pulwama and again in June, 2015 for an official job and had stayed in
Srinagar for about three days. While it was comfortable in Kashmir during daytime in September,
Srinagar remained quite warm during the day in June. Though I was a bit hesitant initially owing to
Covid, but the prospect of lovely snowfall weather in Kashmir changed my mind and we left for
Srinagar, enroute Delhi, catching the Kolkata Delhi flight. On reaching Delhi, on December 29, 2020
we were told that the flight to Srinagar was cancelled due to heavy snow. We somehow managed to
catch the next day's flight to Srinagar, as the snow had been cleared from the runway at Srinagar.
We had booked the tour through a travel operator and had asked them to tell the hired car driver to
report at the airport and directly take us to Gulmarg. After completing the Covid formalities at the
airport we headed to Gulmarg and were greeted by snow everywhere. At the base of Gulmarg the
hired car stops as it can't manage the high snowy slopes and we were shifted to another car, a
Scorpio, which had chains on its wheels to manage the snowy slopes on a mountainous terrain.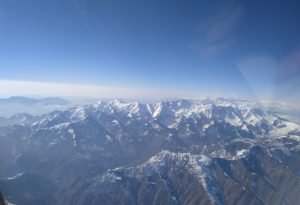 We reached our hotel in the late evening and it was very cold as the temperature had dropped to about
-3 degrees. The next day we left for Gulmarg main area through a cable car and the best part was
that the sun was out and we could see a whole expanse of snow everywhere. We got down and did
skiing, rode on snowmobiles, while my daughters were busy with skiing, which they learnt and
started doing slowly under the guidance of expert handlers. It was real fun and the surprising part
was that the place was full of tourists. As we were coming back, me and my better half decided to
take the cable car to come down while my daughters skied down the snowy slopes on snow cycles.
Gulmarg is a must visit location, especially during winters, as the whole countryside with wide
expanse of sno w everywhere, gives it an extraordinary look.
In the late afternoon, after having lunch we left for Srinagar, where we had been booked in Fortune
Resort Heevan, which was a good hotel as we really enjoyed our stay there. The next day was for
shikara ride in Dal lake, which was partially frozen but we thoroughly enjoyed the ride as it's a
different experience. The only thing which slightly disturbed us was the various shopping shikaras,
which used to come every five minutes alongside our Shikara and try to sell us different produce of
Kashmir. Certain things we bought during the ride but later it became a kind of disturbance but we
remained patient. But, in all fairness, they were doing their job of selling and hence couldn't be
faulted on that. The visit to Pahalgam on the next day was an enjoyable experience as it's a beautiful
place, full of natural scenic beauty laced with huge quantities of snow in this season, adding to the
beauty during winters.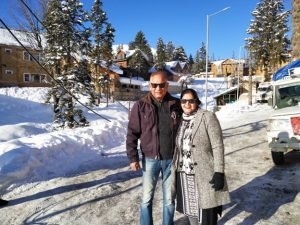 While we roamed around the whole place in our car, our daughters took
horses along with a horse trainer and went to see the higher reaches of the snowy mountainside.
We visited the beautiful Nishat Bagh, built is 1633 AD by Asif Khan, elder brother of Nur Jehan,
which beautiful provides a breath taking view of the city too. Meaning the 'Garden of Joy' in Urdu,
Nishat Bagh is a terraced garden and is the second largest garden in Kashmir. Shalimar Bagh was also
very well kept and has a big area and one can spend hours and hours together there and though it
was quite cold but the bright sunshine made our stay very comfortable there. You can find locals
offering you pics with the local Kashmiri dress, complete with dresses and the photographer in tow,
which is very popular with the tourists. We also visited Chashme Shahi, which was built again in the
17 th century.
Though it is small as compared to Shalimar and Nishat Baghs but famous for the scenic
beauty and off course the water, that flows from the spring from a high Kashmiri hut down to a
fountain pool. All the three gardens are historic, dating back to 17 th century.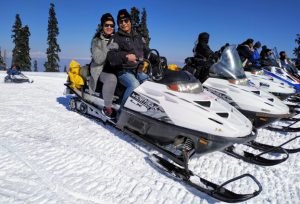 I alone visited the Shankaracharya Temple, dedicated to Lord Shiva, which is atop the
Shankaracharya Hill, as the prospect of climbing so many steps to reach the temple dissuaded my
family for going for it. Believed to be built in 200 BC, it is the oldest temple and a popular pilgrimage
location. Off course, one can't take mobiles, camera etc. as there's a security check post which frisks
you thoroughly before permitting you to go up towards the temple.
We also visited one of the main dry fruit showrooms while coming back from Avantipura, which was
founded in 9 th century and houses one of the ancient Hindu temples. We bought almonds, walnuts
and other dry fruits, which were available in the showroom at much lesser rates than other places.
As we got ready the next day for our journey back, we found it was snowing heavily and the
prospect of flights taking off appeared quite dim. After enjoying a bit in the snow at the Fortune
Heevan Hotel, we left for the airport amidst incessant snowing, only to be informed that our flight
has been cancelled.
And since the forecast for the next three days also predicted heavy snowing, we
booked our flight tickets after three days. But then we had left the Hotel and as we checked for our
'forced' stay' for three more days, all the hotels had hiked their rates substantially. Fortunately, we
got a good deal at Sarovar Portico Hotel and stayed there for three days and as it snowed heavily
throughout, we really enjoyed going out to the different eating places in the afternoons.
Snowfell Café was one of them and I must tell you it gives you a different kind of experience. Fortunately, sky cleared enough on the fourth day i.e. January 7, 2021, to enable us to take off and say goodbye to Kashmir after a memorable stay. Kashmir is a beautiful place and one must visit during both the seasons to fully enjoy the scenic beauty and the snow.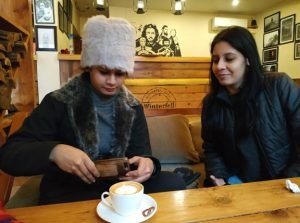 There are a few things one must keep in mind while visiting Kashmir during 'snowtime' – always
carry inners for maintaining body warmth when going out and keep your head covered. Also be very
careful while walking on solidified ice as you tend to slip a lot, as I fell twice while going up the slope
to our hotel in Gumarg.
The local Kashmiris are extremely nice and simple people, helpful and courteous and as I conclude
this travelogue, I salute them as they did everything possible to make our stay comfortable.