BY TTT NEWS NETWORK
KOLKATA, 31 DECEMBER 2022
With the holiday season around the corner, have you set your eyes on where will you spend the New Year? If you are currently still seeking a new year destination that can provide you with unforgettable good times, then look no further than 'Wonderful Indonesia'. Across the archipelago, you will find a wide array of destinations fit for all kinds of travelers. Whether you're looking for eye-catching natural gems, thrilling activities, or one-of-a-kind cultural experiences, you can have it all in Indonesia. If you need the proof, check out the following trip ideas you can try for a fantastic new year holiday in Indonesia!
Backpacking in Bali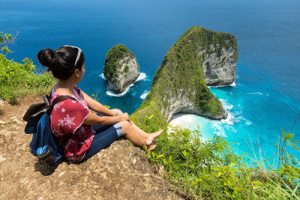 There are reasons why this destination is widely known across the world as The Island of Gods. Blessed with rich natural and cultural heritage, Bali has become a haven for backpackers. If you're looking for a phenomenal yet affordable new year holiday, come explore the many wonders of Bali. Take time to unveil the astonishing gems of the island, such as Tegalallang Rice Terraces and Kelingking Beach. Make sure to also delve into an extraordinary culture, by setting foot at several tourism villages, which include Penglipuran, to experience fascinating local wisdom.
Cityscaping around Jakarta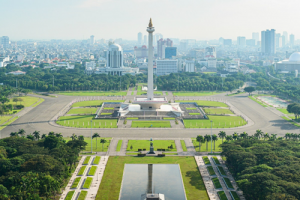 A metropolis bustling with limitless attractions, Jakarta can be a perfect new year holiday destination choice for those of you who love to roam around the city. Beyond the skyscrapers, here you can find many special spots that are guaranteed to fill your new year holiday with joy. Stroll around the National Monument, or Monas, to unwind and get inside the landmark to learn more about the history of Indonesia's independence. Feel the historical vibes of the Old Town area. Hunt for authentic local souvenirs at Pasaraya Blok M. Do also enjoy a great selection of mouthwatering cuisine served at Kemang Street.
Diving in Raja Ampat, West Papua
Delve into the enchanting beauty of more than a thousand islands off the coast of Sorong, West Papua. Filled with an evergreen lush jungle, outlined by pristine shorelines, and an eye-soothing sea, Raja Ampat will fulfill your thrillful new year holiday wish. Unveil the otherworldly scene of Waigeo Island's underwater life. Set foot on the island of Misool and enjoy the sensation of swimming along with stingless jellyfish. Sail along the gorgeous waters of Salawati Island. Then, end your trip by catching the sights of rare flora and fauna at Batanta Island.
Island Hopping around Komodo National Park & Labuan Bajo, East Nusa Tenggara
Embark on a hard-to-forget adventure in Komodo National Park and Labuan Bajo, on the western tip of Flores Island, East Nusa Tenggara. These two destinations will give you a different taste of the new year's holiday as they boast plenty of gems. Aboard the legendary phinisi boat and explore the many isles of Labuan Bajo. Witness a spectacular sunset from the peak of Padar Island. Trek through the vast blissful savannah of Rinca Island. Don't miss out on a chance to encounter Indonesia's ancient reptile, the Komodo dragon, at the Komodo National Park.
Shopping and Glamping in Riau Islands
Situated in the northwestern part of Indonesia, Riau Islands can be a perfect destination if you want something more luxurious for your new year holiday trip. Have an awesome shopping spree at Batam's largest mall, Nagoya Hill. Give yourself a cozy and stellar stay at numerous glamping spots available across Bintan, including the desert-themed ANMON. Spend a good time under the sun with your loved ones at Southeast Asia's largest man-made lagoon at Treasure Bay.
Exploring Tourism Village around Yogyakarta and Central Java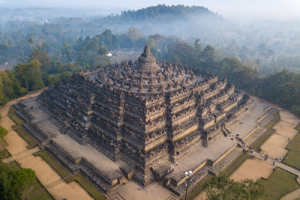 Known as the archipelago's most historical area, the city of Yogyakarta provides a chance for you to transport into the past as the new year arrives. Tourism villages found around the city allow you to get a glimpse of the old Javanese traditions and rituals. Gain some insights about Javanese culture at Nglanggeran Village. Get acquainted with wayang shadowplay at Widosari Village. Make sure you also stop by the magnificent Borobudur Temple in Magelang, Central Java and visit several tourism villages around there, including Karangrejo and Candirejo.
Surfing in Lombok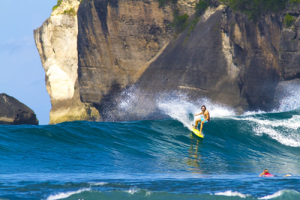 Do you consider yourself a surfing enthusiast? If so, then look no further than the island of Lombok in West Nusa Tenggara. This heavenly paradise is ready to satisfy your surfing itch as it is surrounded by beaches with challenging waves. One of the most well-known surfing spots on the island is Kuta Lombok, which can be found lying on the south of Mandalika. The neighboring beach in the west, Selong Belanak, also features a surf break that surely will raise your adrenaline.
Culinary Adventure in Bandung, West Java
As the capital city of West Java, Bandung is renowned as the region's biggest culinary hub, making it a perfect new year holiday destination for foodies. From scrumptious street foods to sensational dinners, Bandung's culinary delights will put you in awe. Have a taste of Batagor and Siomay fish cakes from many street food vendors across the city. Indulge yourself in flavorful Sundanese cuisine at Boemi Mitoha. Take your loved one to a romantic dinner worth cherishing at Padma Hotel's restaurant.
Kayaking in Lake Toba, North Sumatra
Come spend your new year holiday exploring every inch of Lake Toba. Situated on a caldera of a supervolcano in the south of Medan, North Sumatra, Lake Toba is known as the largest lake in Southeast Asia. Aside from being expansive and surrounded by stretching evergreen hills, Lake Toba also provides unique cultural experiences. As you kayak around the lake, make sure to stop by Holbung Hill to witness a spectacular panorama. Give yourself time to visit Samosir Island and learn how the Batak Toba tribe craft ulos, their traditional woven fabric.
Snorkeling in Likupang, North Sulawesi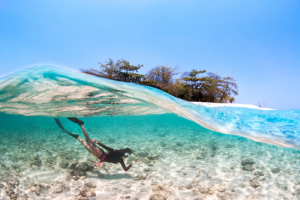 Are you tired of the city's hustle and bustle and need a peaceful new year holiday trip? Just set your eyes on Likupang, a rarely-visited coastal gem lying in the northeast of Manado in North Sulawesi. Here, you can refresh your mind by strolling along the white soft sands of Paal Beach and Lihaga Island. Wander around the grassy Larata Hill and feel its serene atmosphere. Dip into the calming waters of Gangga Island and discover picturesque marine life.
Meanhile, Kolkata based reputed travel  agency with over 35 years of experience, Alps Tourist Services Pvt. Ltd has organised  a 7 days exclusive  tourism package 'Exotic Bali' from December to March covering  the tourism hotspots of Uluwatu Temple, Kecak Dance, Kintamani, Ubud, Tanah Lot Temple,  Sunset Dinner Cruise etc, said Mr. Abhijit Dhar, Ditrector .