BY DEBAJYOTI CHAKRABORTY
KOLKATA, 8 JANUARY 2023
Prime Minister Narendra Modi has shared glimpses of the upcoming Parshuram Kund Festival in Tezu district of  Arunachal Pradesh today.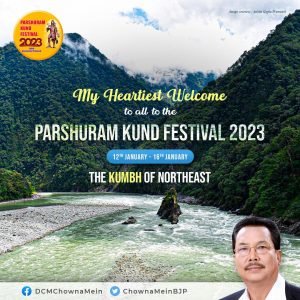 Sharing a tweet thread by Chief Minister of Arunachal Pradesh, Shri Pema Khandu, the Prime Minister tweeted,
"Looks like a blissful experience, a unique opportunity to explore Arunachal Pradesh."
"Shimmery aqua blue water at Parshuram Kund and the holy shrine remind of sage Parshuram. Come feel vibrations of this iconic place, be part of Parshuram Kund Festival, the Kumbh of Northeast, from January 12-16. .With improved roads, your sojourn will be of a lifetime to the place encompassed by magnificent Mishmi Hills & dense forests. Official website launched today will enable us to efficiently manage 5-day fest. Celebrate Makar Sankranti in Arunachal. We're waiting for you,"tweets CM Pema Khandu.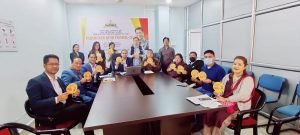 About 1.5 lakhs of pilgrims are expected to participate  in the Parshuram Kund Festival in Arunachal Pradesh from 12 to 16 January this year.
Chief Minister of Arunachal Pradesh, Pema Khandu has virtually luanched the official logo of the festival and  along with a promotional video and registration website.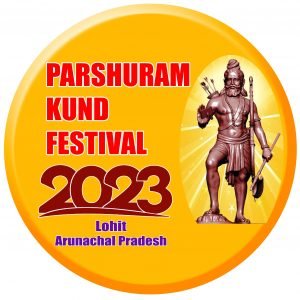 Deputy Chief Minister of Arunachal Pradesh, Chowna Mein  said that this year the festival will be plastic free and already his department has planned to  distributed 25,000 paper bags during the festival.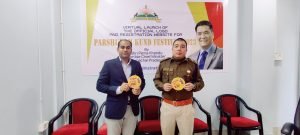 " Since my childhood I have been witnessing this festival and even pilgrims from Assam used to come through my native village of Sunpura,"he added. He has also reviewed the preperations of the festivals on Friday and has  also inaugurated the health camp and food stall set up by CRPF and LED screen at the festival site.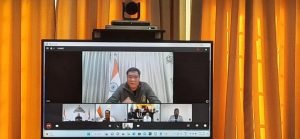 He further added that this festival provide lidelihood opportunities to the local snad also boosts rural tourism in the state.
The chief secretary in charge of Arunachal Pradesh, Dr.Sarat Chauhan said that the festival could be promoted as the 'Kumbh of the North East' , as it has already become an important pilgrimage and religious tourism destination.
The Parshuram Kund is  located in Wakro in Lohit, witnesses  an annual gathering of pilgrims who come for a holy dip at the kund on Makar Sankranti.
Parshuram Kund-
Parshuram kund is a Hindu pilgrimage centre situated at Telu Shati/Tailung area of Mishmi plateau in the lower reaches of the Lohit River, approximately 48 kms via Tohangam from Tezu, the Headquarters of Lohit District in Arunachal Pradesh. hills district comprising Mishmi inhabited areas.
It is a famous holy place of worship which is steeped in Hinduism and is much venerated by them. It falls within the Kamlang reserve forests and is surrounded by dense forests.
According to Hindu faith, the sage Parshuram, on the advice of some sages is said to have wandered all over the Himalayan range to atone for the sin of matricide initiated by his father. The axe that was stuck to his hand fell away cleaving the mountain that sprang the Brahmakund.
Parshuram Mela-
The focal point of Makar Sankranti which falls on 14th and 15th January is the Parshuram kund Mela which is celebrated in Telu Shati/Tailung area in Lohit District and which is a regular event since 1972. The Mela is held both at District Headquaters,Tezu and Parshuram kund/ Telu Shati/Tailung area which is 199 kms from Dibrugarh, the nearest Airport. During the Mela held from 1st week of January to 31st January, pilgrims and common visitors from all over the country and Nepal visit the place for sightseeing and holy dip at the famous Lohit River.
How to Reach:
By Air-
Nearest Airport – Mohanbar Airport, Dibrugarh, Assam
By Train-
Nearest Railway Station – Tinsukia Railway Station, Assam
By Road-
Daily private vehicle/Arunachal State Transport Service available at Tinsukia