BY TTT NEWS NETWORK
KOLKATA, 29 DECEMBER 2022
 "Metro rail is another achievement of Bangladesh," said Prime Minister Sheikh Hasina Wajed on Wednesday.
She said this while inaugurating a section of the 20 kilometres urban rail project known as Uttara Line 6, which is the  the first ever  metro railways in the capital city of  Dhaka, one of the most populous and congested cities in the world.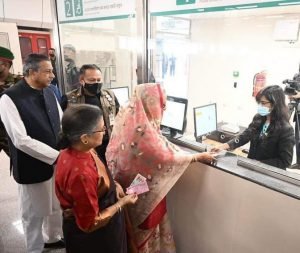 She has also become a passenger of the train by riding from Diabari in  Uttara to  Agargaon. A total 285 people took ride in the first journey including , Sheikh Rehana, the younger sister of the PM and other ministers of her cabinet.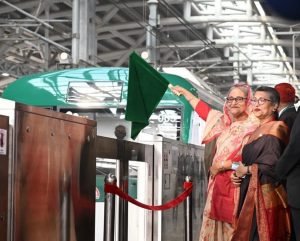 The metro railway  line connects Dhaka's Northern area to the  centre of government offices and hospitals. It will eventually pass through the city to Motijheel's financial sector in the South.
To mark this historic  occasion, she  has also unveiled a commemorative stamp and a banknote.
Every day the  Bangladesh's economy loses 3.2 million working hours due  to traffic congestion which costs  the country's economy billions of dollars annually.
Only six months ago, PM Sheikh Hasina Wajed has inaugurated the longest  bridge upon a river in Padma which has given a a giant leap forward in the growth of economy and tourism and has acted as  game changer in the roadways infrastructure  sector.
 Dhaka Mass Transit Company Limited (DMTCL) said that a total of 200 passengers can board the train and it will run for four hours daily initially from 8 AM to 12 PM.
 The current fare of the route will be Bangladesh Taka 60 and will take total ten minutes to reach the destinations. The trains will run after a durations of  ten minutes each.
Six women drivers have been trained to run these 12 metro rails and on the inaguration day the women driver was Mariam Afeeja. Each train has six coaches.
Due to the outbreak of the covid -19 pandemic the project has been delayed.
The metro railways will have total 17 stations. The project has been funded by Japan International Cooperation Agency.
Construction began on 26 June 2016 with an inauguration ceremony presided over by the reigning prime minister Sheikh Hasina.[11] Civil engineering work was done by the Italian-Thai Development Public Company Ltd. and China's Sinohydro Corporation Ltd. JV, and a Tokyo-based construction company developed the depot's land.
Once fully opeartonal the metro railways will be able to carry 60,000 passengers per hour.