BY DEBASHREE CHAKRABORTY
KOLKATA, 17 FEBRUARY 2023:
Within the next two years, journey by railways in West Bengal is all set to be of  international standards as not only Vande Bharat trains will ply in the state but also a number of stations will be renovated into world class stations similar to airports.
Recently, the railway board has approved the Detail Project Reports of Howrah, Bandel and Asansol stations renovation works at a cost of Rs.1000 crores, Rs. 349 crores and Rs.496 crores respectively.
All these three railway stations have heritage buildings and the renovation works will done without disturbing the heritage portions.
Union finance minister Nirmala Sitharaman has mentioned making these stations
into  international standard railway station in her budget speech  this year
along with many other stations in the country.
The renovation and  modernisation projects of these stations will be completed within 2026. The Zonal railways will float tenders for the projects and work will begin soon
after the tender is being  finalized, railway sources said.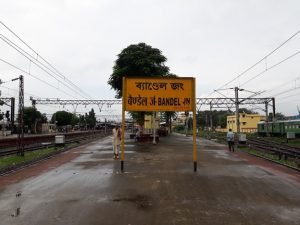 The Indian Railways have also planned to renovate the railway stations of Bhagalpur, Jasidih and Kolkata stations. The DPR is being prepared at present and will be sent to railway board through zonal railways for final approvals.
Already five agencies have been engaged for drawing and architecture for the upcoming revamped railway stations.
The stations will be completely air conditioned.
BANDEL-
The Bandel station building will be renovated on the model of the old Jubilee Bridge, which was a railway heritage. There will be retail outlets, hotels, food plazas, rest rooms, escalators and lifts, multi layer parking plaza, city transport facilities, pick up and drop points, beautifully decorated circulating area, greenery , lightings etc.
ASANSOL-
Asansol station will be 108 metres in length and will have foot over bridges.
All modern amenities available in airports like rest rooms, cafeterias, separate entry and exit gates, food courts, lifts and escalators, CCTV, baggage scanners,  car parking facilities, e  – vehicle charging points, decorated circulating areas etc.
The station building of Asansol Station is a heritage building and the upgradation and renovation work will take place without disturbing the heritage building portion.
Asansol is the  8 th busiest railway station  of Indian Railways and the annual passenger increase is about 8 to 10 percent. The station handles about 10,000 passengers and 171 trains  per day presently. The railway station building is heritage and was set up in 1885.
The Indian Railways have already set up world class airport like railway stations in GandhiNagar Capital Station in Gujarat and Habibganj railway Station in Bhopal of Madhya Pradesh and the Sir Visvesvaraya Railway Terminal in  Bengaluru in Karnataka. PM Narendra Modi has inaugurated all these station projects.
The Habibganj Railway Station, set up at a cost of Rs.450 crores last year and modelled on Heidelberg Railway Station in Germany. A five star hotel has been set up above the railway tracks in GandhiNagar Capital Station for the first time ever in the country.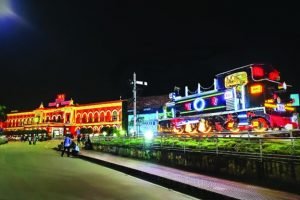 Union Railway Minister, Ashwini Vaishaw said that a record amount of budgetary allocations for railway projects in Bengal this year and a total 93 railway stations in the state will be renovated including many small  but key stations, besides the mega renovations of the big stations.