BY DEBAJYOTI CHAKRABORTY
KOLKATA, 1 AUGUST 2022
The video clips of Black Tigers posted by an IFS officer sighted at the Simlipal Forests in Odisha, which is followed after the sightings of black leopards in the wildlife of Kabini have made the wildlife enthusiasts ecstatic.
Baghera or the black tiger, is a world famous fictional character which has been immortalised in  the famous Jungle Book written by Indian born and the first British Nobel Laureate Rudyard Kipling.
IFS officer Sushanta Nanda shared a 15 seconds video on his twitter handle on World Tiger Day. The rare adult black tiger species seen making scratch marks on a tree.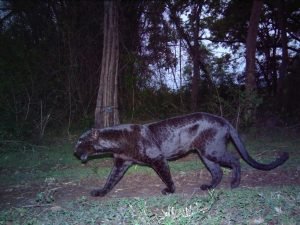 The rare black tigers were first officially found in 2007 at Simlipal Tiger Reserve in Odisha.
The black or pseudo-melanistic tigers have distinctive dark stripe patterns on a light background of white or golden – are rare and have only been camera-trapped in  the wild at Similipal Forests till date.
"Tigers are a symbol of sustainability of India's forests… Sharing an interesting clip of a rare melanistic tiger marking its territory on international Tigers day. From a Tiger Reserve poised for recovery of an isolated source population with a very unique gene pool. Kudos, Tweets Sushanta Nanda.
Elaborating on his video clip the Indian Forest Service officer adds the video clip on twitter , which  was of a rare melanistic tiger marking its territory on International Tigers Day.
Sushanta Nnanda said the black tigers have a unique gene pool and the tiger reserve is poised for a recovery in their numbers.
The black stripes of melanistic tigers occur due to mutation. They are Bengal tigers with a single base mutation in a particular gene. This mutation causes the tigers' distinctive black stripes to enlarge and spread into the orange background.
The only other black tigers outside of Similipal in India exist at the Nandankanan Zoological Park in Bhubaneswar, Ranchi Zoo and Chennai's Arignar Anna Zoological Park, where they were born in captivity.
There has been already  a research conducted by scientists globally on black tigers which  included scientists from Stanford University and HudsonAlpha Institute for Biotechnology of USA, Indian Institute of Science Education and Research in  Tirupati, Center for Cellular  and Molecular Biology in Hyderabad , and Wildlife Institute of India in Dehradun.
The melanistic wild cat or the black leopard which was first spotted in 2020 have been found in the wildlifes of  five tigers reserves in Karnataka- Nagerhole, Bandipur, Bhadra, BRT, Kali forets  and also Karnataka and  Mudumalai Tiger Reserve  in Tamil Nadu.
With the news of spotting of black leopards, there has been an increase in numbers of wildlife enthusiasts in these forests of South India and boost wildlife tourism , forest officials said.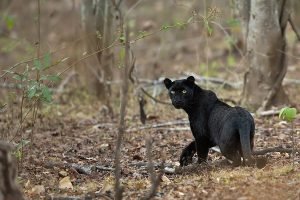 Locals called them as black panthers and have the densest population in Kali Tiger Reserve.
In this month, the country will have Cheetahs from Africa on the occasion of the 75 th year of India's independence celebrations, incidentally  the last species of which was killed in 1947.
At this juncture the video clips and trap camera photographs of black tigers and black leopards posted by the forest officials have proved that reel life Baghera is not only fictional and mythical but also
real.
It's very big  and positive news for the animal lovers of  vast green wildlife stretches of  Incredible India, where once the legendary Jim Corbet used to romance  with the  big cats many decades ago.
https://twitter.com/susantananda3?ref_src=twsrc%5Etfw%7Ctwcamp%5Etweetembed%7Ctwterm%5E1552873671974211584%7Ctwgr%5E088f696ad85f800c2d74ea75ea8503fc8e70b505%7Ctwcon%5Es1_&ref_url=https%3A%2F%2Fodishatv.in%2Fnews%2Fviral%2Fwatch-video-rare-black-tiger-spotted-in-similipal-national-park-181942