BY CHEF SOURAV BASU,
THE GRAND, ASANSOL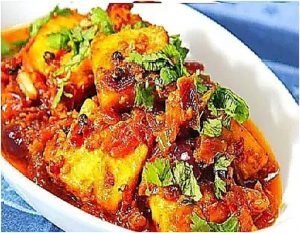 Dish Name
PANEER KUNDAN KALIYAN
Meal Period
Lunch/Dinner
Prep. Time
30 MINS
Cooking Time
20 MINS
Finishing Time
3 MINS
   Ingredients for _ portions
 
 
4.00
Description
Unit
Qty
Paneer
KG
0.6
Cashewnut broken
KG
0.1
Onion
KG
0.125
Curd
KG
0.3
Oil
LT
0.125
Methi dana
KG
0.005
Salt
KG
0.005
Ginger garlic paste
KG
0.05
White pepper powder
KG
0.01
Black pepper powder
KG
0.005
Red chilli powder
KG
0.01
Fresh cream
LT
0.125
Fresh coriander
KG
0.005
Methi powder
KG
0.01
Saffron
KG
0.01
Turmeric powder
KG
0.005
Method:-
Cut the paneer into diamond shaped pieces.
Boil and grind cashewnuts and onions
Heat the oil, and add washed methi dana to it.
When the methi dana starts crackling, add ginger garlic paste, salt and fry.
Then add beaten curd to it and keep frying.
Add in the ground paste of onions and cashewnuts.
Add all the powdered spices, and simmer till oil seperates.
Now strain the gravy and add paneer.
Adjust the seasoning and garnish with cream and saffron.