BY TTT NEWS SERVICE
KOLKATA, 12 AUGUST, 2022
With COVID-19 cases on the rise in some places of the country since the past few days , the   ministry of home affairs of the union government  asks  the state governments to ensure there are no large gatherings for Independence Day celebrations and that everyone follows strictly   all the Covid protocols.
"As a precaution, against Covid-19, large congregations in the ceremony be avoided. It is imperative that covid guidelines are followed,"the MoHA has issued advisories.
Already the Delhi government has made wearing masks mandatory at public places and has announced to impose a fine of Rs.500 to people who will violate the rules.
India has registered 49 deaths and 16,561 new cases in the past twenty four hours. The total death count of India so far is 5,26,928. Maharashtra has recorded five deaths today and 1975 new cases.

The Nepal government has already barred  entry of Indian's to the himalayan country after four Indians have tested covid -19 positive a few days ago.
Meanwhile, the country celebrating the 75 years of Azadi Ka Amrut Mahotsav is gearing up to fly national flags from tomorrow.
Responding to the Har Ghar Tiranga call by the Prime Minister Narendra Modi, the sale of national flags is at an all time high. The India Posts has already sold out over 1 crores of national flags costing Rs.25 each.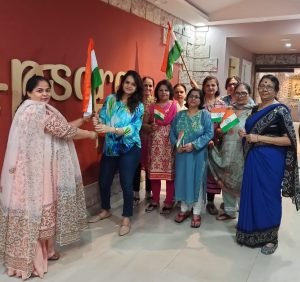 The union home ministry recently modified the flag code permitting every citizen of the country to display the flag throughout the day and night. Earlier the tri colour was allowed to be hoisted from sunrise to sunset.
"We are getting ready to fly tri-color flags at houses in the society as part of the Har Ghar Tiranga campaign, "says Neeta Punjabi, acting chairperson of Apsara Apartment in Park Street.
Many apartment societies, like Apsara Apartment of Park Street in Kolkata, are distributing free national flags to its members to unfurl at the verandah or balcony of the condominium apartments in the city.
The ASI has also withdrawn its entry fees in the museums and monuments in the country for all the visitors to celebrate the 75 years of India's independence.
The Taj Group has also come forward celebrating the Azadi Ka Amrut Mahotsav with offers of upto 25 percent discounts.