BY DEBAJYOTI CHAKRABORTY
KOLKATA, 11 OCTOBER 2022
The inauguration of the first phase of the  massive Rs.856 crores investment and 900 metres long  Mahakal Lok corridor  in Ujjain city in Madhya Pradesh by Prime Minister Narendra Modi today is all set to boost the religious and cultural tourism in the state.
Shivraj Singh Chouhan, Chief Minister of Madhya Pradesh accompanied him. The PM also offered puja at the temple.
Several thousands of pilgrims and devotees  arrive in Mahakaleshwar Temple in Ujjain to worship every day from all parts of the country. The temple area will also expand along with this project.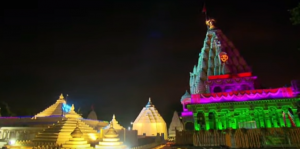 Union culture minister , G.Kisan Reddy has tweeted  the video footage and the glimpses of the Shree Mahakaleshwar Temple Corridor in Ujjain.
The old Rudrasagar Lake has also been revived as part of the redevelopment project thus benefiting the several thousands of devotees.
According to an estimate by local hotel owners at present about 8000 people arrive here for worshipping everyday from several parts of the country, but in the coming days the daily footfall is expected to exceed over 25,000.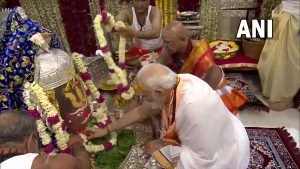 Due to the outbreak of the covid -19 pandemic in the past two years  , many devotees could not  physically  visit Ujjain and depended upon the online puja programs by the local priests for kaal sarp yog and other pujas, thus the business of the  local hotel, hospitality industry and shops have been  severely affected, but now the normalcy has been restored back and all covid protocols withdrawn and devotees have started rushing to Ujjain for the famous  physical puja rituals.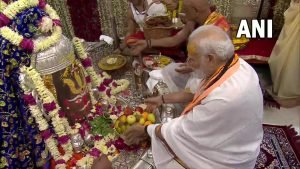 "The Mahakal Path contains 108 stambhs (pillars) which depict Anand Tandav Swaroop (Dance form) of Lord Shiva. Many religious sculptures depicting the life of Lord Shiva are installed along the Mahakal Path. The Mural wall along the Path is based on Shiva Purana stories such as Act of creation, Birth of Ganesha, Story of Sati and Daksha among others."
Work on the Phase 2 of the corridor is also underway.
Of the 12  Lord Shiva  Jyotirlingas found in India, the Mahakal is the only Jyotirlinga which faces the south while the others are east facing.
The size of this Mahakal corridor is four times the size of Kashi Vishwanath Temple Corridor. The central government has undertaken projects to revamp the heritage temple towns in the country and boost cultural tourism.
Besides the Kashi Vishwanath Temple, recently the PM Narendra Modi has also visited the Baidynath Dham temple in Deoghar of Jharkhand. The Kedarnath Shrine has also been revamped.
The temple has also undergone redevelopment and an airport has also been inaugurated in Deogarh which has further boosted tourism in the holy town.
Jai Mahakal 🔱

The first phase of the Shree Mahakaleshwar Temple Corridor of Ujjain is all set to be inaugurated by Hon'ble PM Shri @narendramodi Ji tomorrow 11th, October.

Glimpse of the magnificent #ShriMahakalLok : pic.twitter.com/D0eVYJLN6d

— G Kishan Reddy (@kishanreddybjp) October 10, 2022
जय महाकाल 🔱

उज्जैन में महाकालेश्वर मंदिर कॉरिडोर का प्रथम चरण बनकर तैयार है। माननीय पीएम श्री @narendramodi जी 11अक्टूबर, 2022 को इसका लोकार्पण करेंगे।

अप्रतिम #ShriMahakalLok की एक झलक: pic.twitter.com/J51EFpniPn

— G Kishan Reddy (@kishanreddybjp) October 10, 2022