BY TTT NEWS NETWORK
KOLKATA, 17 JANUARY 2023
Anil Punjabi, Director of Ar- Es Travels in Park Street and also the Chairman ( East) of Travel Agents Federation of India (TAFI), also one of the most popular and active faces in the travel and tourism sector of  the state has become the new state ( West Bengal) President of Vishwa Sindhi Seva Sangam.
He will work as the president til December 2023. In a meeting at New Delhi, Anil Punjabi has been appointed as the new president of the West Bengal unit.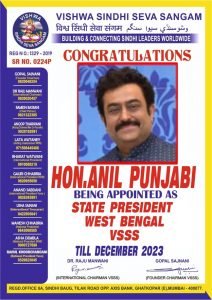 Vishwa Sindhi Seva Sangam has been engaged in building and connecting Sindhi leaders worldwide.
Talking to The Travel and Tourism Times, Mr. Anil Punjabi, the new president of Vishwa Sindhi Seva Sangam ( West Bengal) said that he will try to live upto the expectations and will do his level best to serve the people of Sindhi community and west bengal citizens.
AIMS and Objectives :
Promoting underpriveledged and exceptional ( deserving) Sindh youth aspiring to join civil services cadre with financial assistances.
So far Gujarat is the only state in India to have granted minority status to the Sindhi community. One of the aims of Viasha Sindhi Seva Sangam will be to get similar minority status in the remaing states of India as well.
Promotion of Sidhi culture , sindhi language, festivals like Tijri, Cheti Chand, Chalihi, Gogo, Thadri, Mahalaxmi Sagra etc.
Introduction of Sindhi language in educational curriculum.
Women empowerment.
Restart participation of Sindhi tableu ( Jhamki) in the republic day parade in New Delhi.
Landless state status for the Sindhis.
Sindhi Academies in all states of India.
Sindhu University.
After the partition in 1947, the sindhi community has migrated to India from Pakistan. They mainly live in north western part of the country.
The history of the sindhis as a business community goes back to the dates of Indus Valley Civilizations in Mohen Jo Dharo and Harappa.
Some of the famous sindhis in India are – Ram Jethmalini, Admiral Ram. H. Tahiliani, Padma Bhushan Dr. L.H. Hiranandani, Padmashri Dr. Suresh Advani  etc.