BY DEBASHREE CHAKRABORTY
KOLKATA, 20 MARCH 2023:
The Rajasthan Tourism Development Corporation (RTDC), which runs and operates the 250 year old heritage property Castle Jhoomar Baori is all set to reopen it in this season very soon after renovation, still stands tall  amidst the verdurous glooms of the forest, it is the only resort inside the Ranathambore National Park in Rajasthan, an abode of about 89 Royal Bengal Tigers.
Talking to the  www.thetravelandtourismtimes.com, Mr. Hinglaj Dan Ratnoo, Officer in Charge of Rajasthan Tourism Development Corporation (RTDC) in Kolkata  has informed that since last October the heritage hotel which once upon a time used to be the shikar mahal ( Hunting castle) for the kings has been closed for renovation work.
"  It gives goosebumps to the tourists  who are often greeted with the roar of the majestic big cats while staying at night  in the resort rooms. It is one of the hot propoerties of RTDC and already all rooms are booked till the month of June. From 1 July to 30 September like all  other forests in the country, the Ranathambore National Park also remains closed," added Mr. Hinglaj Dan Ratnoo.
It is located about two kilometres from the main entrance  of Ranathambore National Park. Though the biggest attraction is the Tiger Safari, but the tourists always have to carry their identity cards along with them.
Chamatkar Temple,  Trinetra  Ganesh Temple , Khandar Fort , and Ranthambore School of Art  are  the nearest attractions , and they are all located within walking distance of Castle Jhoomar Baori.
Providing an ideal mix of value, comfort and convenience, it offers a family-friendly setting with an array of amenities designed for all ages of  travellers.
"The hotel boasts amazing views of the surrounding Aravalli Hills and lush greenery. It was the summer palace of the rulers of the Jaipur and was converted into a hotel. The heritage hotel is perfect for family vacationers and cultural aficionados who can get a glimpse of how once the royals used to spend their holiday," adds Mr. Hinglaj Dan Ratnoo.
Hotel Jhoomar Baori offers Rajasthani and other cuisines from India along with dishes of Continental and Chinese cuisines. There's also a well-stocked bar for the guests, and for the business travellers there is a conference hall to organize events and meetings. The staff is quite professional and offers incredible service to the guests.
Hotel Jhoomar Baori offers two types of rooms: AC Rooms and Suites which are adequately equipped to offer a comfortable staying experience to the guests.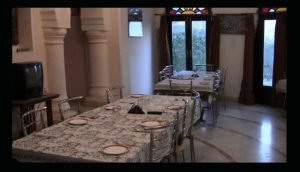 Location-
Hotel Castle Jhoomar Baori is located at a distance of 175 km from Jaipur International Airport, 5 km from bus stand and 7 km from railway station.
Ranthambore National Park harbours  royal Bengal tiger, Indian leopard, caracal, jungle cat, rusty-spotted cat, Indian elephant, wild water buffalo, gaur, nilgai, barasingha, blackbuck, chinkara, chousingha, wild boar, chital, sambar, Indian muntjac, Indian hog deer, striped hyena, dhole, Indian wolf, Bengal fox, Indian jackal, leopard cat, Asian palm civet, Indian grey mongoose, ruddy mongoose, long-eared hedgehog, Northern palm squirrel, Indian porcupine, Indian hare, lesser bandicoot rat, honey badger, Indian flying fox, greater false vampire bat, Indian gerbil, Indian pangolin, sloth bear, southern plains gray langur, rhesus macaque, mugger crocodile.
The sanctuary is home to a wide variety of trees, plants, birds and reptiles, as well as one of the largest banyan trees in India.