BY DEBAJYOTI CHAKRABORTY
KOLKATA, 1 JULY 2022
With the stringent entry requirements of Thailand Pass withdrawn from 1 July, the increase of Indian tourists is set to increase by around 20 percent to the Land of Smile.
The US$ 10,000 health insurance requirement has also been withdrawn, according to the Tourism Authority of Thailand (TAT).

" It is a big relief for the airline operators, tourists and travel agents. We welcome this move of the Thailand government and hope that from July onwards the increase of tourists from India is set to increase by around twenty percent to Amazing Thailand,"says Anil Punjabi, chairman (East) of Travel Agents Federation of India (TAFI).
The present flight occupancy is about 60 percent due to the requirement of Thailand Pass. The travel agents and the state government are trying to convince Thai Airways to commence direct flight services from Kolkata to Bangkok, which has left the City of Joy after 60 years.
Though before the pandemic broke out in 2019, there has been regular direct flight operations from Kolkata by Thai Airways, but it has not resumed its operations yet.
Thai Smile has started its flight operations from Kolkata to Bangkok already .
To boost its tourism sector further, recently the Tourism Authority of Thailand has successfully organised a road show in Seoul in South Korea.
Manav Soni, chairman (east) of Travel Agents Association of India (TAAI) said that the tourist flow will increase as from 1 July the tourists have to show a vaccination certificate or a negative RT-PCR Test report conducted within 72 hours before the journey.
Indigo, Spicejet, Air Asia International and Thai Smile are currently operating flights from Kolkata to Bangkok.
In the month of March, about 10,500 Indian's visited Thailand, which has been the fifth largest in the world after the United Kingdom, Germany , USA and France.
In fact just before the covid -19 pandemic broke out, about two million Indians visited Thailand in the year 2019, which was next only to China. In the first three months of 2020 around 3 lakhs Indians visited Thailand before the regular international flight services stopped. Kolkata alone contributed about 35 percent of the tourists visiting Thailand in 2019.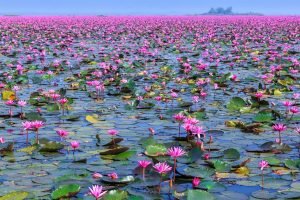 To provide the latest updates and relaxations, Tourism Authority of Thailand has been organising Amazing Thailand presentations and networking lunches at various cities of India.
Vachirachai Sirisumpan, Director of Tourism Authority of Thailand (TAT), New Delhi said that the nationwide covid -19 controls have been fully relaxed from 23 June.

Published in the Royal Thai Government Gazette on 23 June, 2022, and with immediate effect, the announcement removed the colour-coded zoning, thus redesignating Bangkok and all other 76 provinces a green zone.
Outdoor mask-wearing has been endorsed as voluntary although the public are still advised to wear a face mask in crowded places, such as, public transport, markets, and concert venues, or for people with certain health conditions.
Restaurants and eateries are allowed to serve dine-in customers alcoholic beverages in accordance with the applicable laws and regulations, as well as communicable disease control guidelines.
Entertainment venues including pubs, bars, and karaoke lounges that have been certified with the Thai Stop COVID 2 Plus by the Ministry of Public Health are also allowed to operate in accordance with the applicable laws and regulations, as well as communicable disease control guidelines.
Group gatherings in crowded places are allowed, but those with more than 2,000 participants must receive advance permission from respective authorities in Bangkok or the other 76 provinces.
The year 2019 has been a annus mirabilis for Thailand tourism industry as it has witnessed a whopping 24.85 percent passenger growth and 27.45 percent revenue growth , by earning a total Thai Baht 86,372.01 from Indian tourists and last year there has been an all time record footfall of 1,995,516 Indians. In 2011, about ten lakhs Indians visited Thailand. Over 400 marriage, birthday, anniversary parties from India took place in Thailand in 2019.
According to a World Travel and Tourism Council report, tourism contributes to 17 percent of Thailand's national GDP , while the contribution of tourism in the global GDP is merely 10 percent.
The tourism ministry of Thailand is also exploring new picturesque coastal destinations like Pattaya, Huahin, Phuket, Koh Rong, Krabi, Taitenian, Kanchana Buri, Sukhotai etc for alluring marriage parties besides capital Bangkok .
Thailand is a country of many contrasting facets, from pristine beaches to dense forests, ancient monasteries to coral reefs, from Buddhist monks to floating markets, sky bar and restaurant, and finally the fragrant and delicious array of foods and beverages for the connoisseurs of Thai food.
Thailand has won the 'Golden Travel Destination Award 2022' from Dutch tour operator, Reisgraag.nl for its hospitality, attractions, culture, and dining scene.